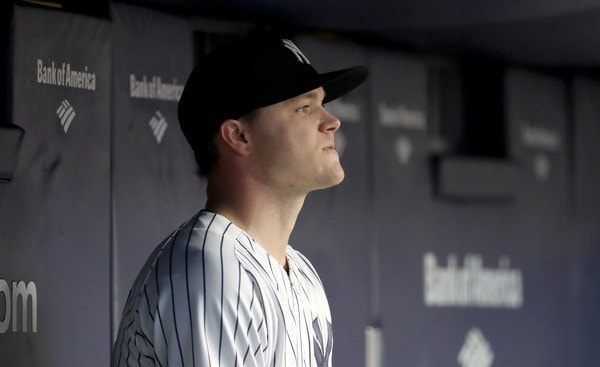 Even with last night's loss, the Yankees totally aced what was, on paper, their toughest stretch of the season. They went 18-3 in consecutive games against the Blue Jays, Twins, Angels, Astros, Indians, and Red Sox. Basically the six best non-Yankees teams in the American League. Going 12-9 or 13-8 during that stretch would've been cool. The Yankees went 18-3. Pretty great.
Of course, going 18-3 against those six teams does not mean the Yankees can rest on their laurels. The Athletics are in town for a three-game series this weekend and while they've lost three straight games and seven of their last eleven games, they are perfectly capable of making like miserable for the Yankees. The schedule does get easier now. The games won't win themselves though.
Tonight, Sonny Gray gets to face his former team for the first time, and the same applies to Dustin Fowler. Those two were traded for each other last year. Fowler successfully rehabbed his knee injury, spent a few weeks in Triple-A to start the season, and was called up earlier this week. I hope he does well against every team except the Yankees. Hard not to root for Fowler after what he went through. Here are the starting lineups.
New York Yankees
1. LF Brett Gardner
2. RF Aaron Judge
3. SS Didi Gregorius
4. DH Giancarlo Stanton
5. CF Aaron Hicks
6. 1B Neil Walker
7. 3B Miguel Andujar
8. C Austin Romine
9. 2B Gleyber Torres
RHP Sonny Gray
Oakland Athletics
1. SS Marcus Semien
2. LF Matt Joyce
3. 2B Jed Lowrie
4. DH Khris Davis
5. 1B Matt Olson
6. 3B Matt Chapman
7. C Jonathan Lucroy
8. RF Mark Canha
9. CF Dustin Fowler
RHP Kendall Graveman
It is cool and cloudy in New York today, and there is rain in the forecast later tonight. Much later tonight, so it won't be a problem for the game. Tomorrow's game though? That's another matter. Anyway, tonight's game will begin at 7:05pm ET, and you can watch on YES locally and MLB Network nationally. Enjoy the game.
Injury Updates: Tommy Kahnle (shoulder, biceps) could rejoin the Yankees at the end of the upcoming road trip, according to Aaron Boone. That puts him about two weeks away … Brandon Drury (migraines) is progressing but is not yet where he needs to be. His 20-day rehab window ends Tuesday, so the Yankees will have to make a decision about activating him or pulling him off rehab pretty soon here … Greg Bird (ankle) and Billy McKinney (shoulder) will have their rehab assignments moved up to Double-A Trenton next week.