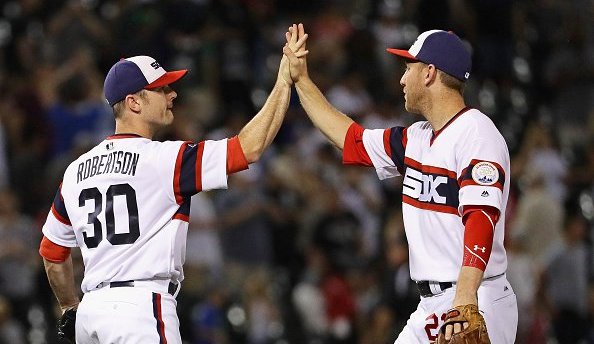 The Yankees and Twins are wrapping up their three-game series this afternoon, and the Yankees will have three new players in uniform. Todd Frazier, David Robertson, and Tommy Kahnle are all available today even though their flight from Chicago was held up by bad weather and they're not expected to arrive at the park until around first pitch. The Yankees are a much better team right now than they were 24 hours ago. No doubt about it.
As for this afternoon's game, the Yankees have a chance to do something they haven't done in more than a month now: win a damn series. They're 0-7-2 in their last nine series dating back to that massacre weekend against the Orioles. It's about time for this extended run of crappiness to end. The front office went out and got the Yankees some help. Now it's up to the players to turn things around. Here is the Twins' lineup and here is the Yankees' lineup:
LF Brett Gardner
CF Jacoby Ellsbury
DH Gary Sanchez
2B Starlin Castro
SS Didi Gregorius
RF Clint Frazier
1B Garrett Cooper
C Austin Romine
3B Ronald Torreyes
LHP Jordan Montgomery
It is a lovely afternoon for baseball in the Twin Cities. Nice and sunny with temperatures in the 80s. Good day to play hooky and sit in the bleachers. This afternoon's series finale will begin at 1:10pm ET and you can watch on YES. Enjoy the game.
Roster Moves: Even with Tyler Clippard going the other way in the trade, the Yankees still needed to clear two 25-man and two 40-man roster spots following the trade. Ji-Man Choi was designated for assignment to clear one of each. Chasen Shreve was sent down to clear the other 25-man spot and Rob Refsnyder was designated for assignment to clear the other 40-man spot. Choi will likely clear waivers and go to Triple-A Scranton. I bet Refsnyder ends up getting traded for nothing in particular. Either that or they'll lose him on waivers.
Uniform Numbers: Clint Frazier has switched from No. 30 to No. 77, which is an expert troll move. He said it has nothing to do with Mickey Mantle though. He thought it would look cool with No. 77 and No. 99 in the outfield. Robertson is wearing his old No. 30. The other Frazier, Todd, is wearing No. 29. He wore No. 21 with the Reds and White Sox. I guess the Yankees are just never going to put that number back in circulation, huh? Kahnle is wearing No. 48.