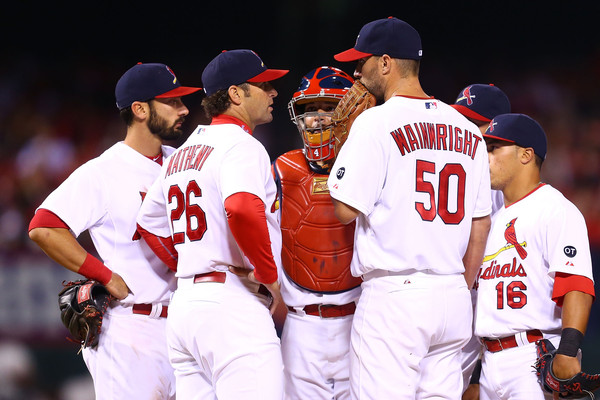 It still seems strange to host a National League team as early as April 14, but year-round interleague play has been the norm since the Houston Astros moved to the AL West in 2013. This won't be quite so jarring, though, as the superior league's rules will be in-play.
The Last Time They Met
The Yankees visited the Cardinals back in May of 2014, winning two out of three against the defending National League champions. Hiroki Kuroda and Alfredo Aceves picked up the wins, and David Phelps took the loss. A few interesting notes:
Jacoby Ellsbury batted third in all three games (and went 5-for-12 with 2 walks, 3 runs, 3 stolen bases);
Eight pitchers took the ball for the Yankees, and only two (Dellin Betances and Adam Warren) are still in pinstripes;
The first game was an extra innings affair, in which Alfonso Soriano drove in what proved to be the game-winning run;
Brian Roberts went 5-for-13 with 2 doubles, a walk, and 3 runs scored in the series.
Injury Report
The Cardinals currently have four pitchers on the disabled list, none of which will pitch this series – Alex Reyes, John Gant, Tyler Lyons, and Zach Duke. Reyes, a consensus top-10 prospect, is the biggest loss on this list as he was expected to be a fixture in the team's rotation this season (and for many seasons to come). He'll miss the entirety of 2017 following Tommy John surgery.
Their Story So Far
St. Louis is currently 3-6, and have been outscored by 14 runs (34 runs scored, 48 allowed) thus far. They aren't hitting (their 72 wRC+ ranks 28th in the Majors), and their bullpen has been downright atrocious, with a worst-in-baseball 7.86 ERA. And there was also this tomfoolery: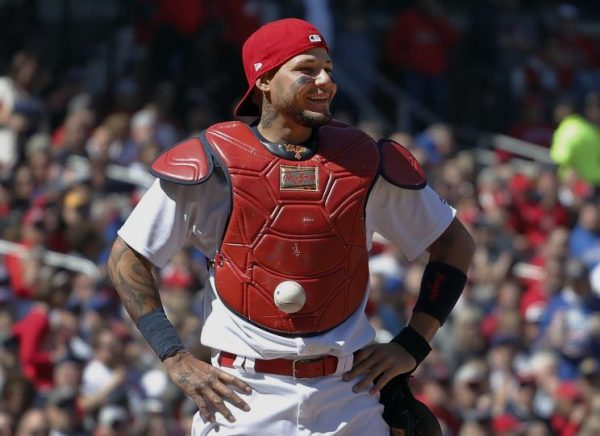 That isn't a trick of the light or a Photoshop job – that's a ball sticking to Yadier Molina's chest protector. It was a short-lived scandal, as the league cleared Molina and the Cardinals of any wrongdoing relatively expeditiously, but that bit of comedy has been the highlight of their season.
The Lineup We Might See
Mike Matheny utilizes a few platoons, most notably at 2B (Kolten Wong vs. RHP, Jedd Gyorko vs. LHP) and in the corner OF spots (Matt Adams vs. RHP, Stephen Piscotty vs. LHP). They also give their players regular rest, which has led to them utilizing six different lineups in eight games (excluding the pitcher). Adding in a designated hitter throws a further wrinkle into guessing what we might see this weekend. Excuses aside, it will probably look something like this against Masahiro Tanaka on Friday and Michael Pineda on Sunday:
Dexter Fowler, CF
Aledmys Diaz, SS
Matt Carpenter, 1B
Matt Adams, DH
Yadier Molina, C
Jhonny Peralta, 3B
Stephen Piscotty, RF
Randal Grichuk, LF
Kolten Wong, 2B
And something like this against CC Sabathia on Saturday:
Fowler, CF
Diaz, SS
Carpenter, 1B
Peralta, 3B
Molina, C
Piscotty, RF
Jedd Gyorko, 2B
Grichuk, LF
Adams, DH
The Starting Pitchers We Will See
Friday (7:05 PM EST): RHP Michael Wacha
Wacha struggled mightily in 2016, posting career-worsts in K/9, K%, BB/9, HR/9, ERA, and FIP, and spending time on the disabled list with shoulder inflammation. While he has yet to live-up to the hype set by his NLCS MVP award as a rookie (2 GS, 13.2 IP, 7 H, 0 R, 2 BB, 13 K), he has otherwise been a solid cog in the Cardinals rotation for four-plus seasons. His biggest issue may well be staying healthy, but he's still only 25-years-old.
He's primarily a fastball/change-up guy, with a low-to-mid 90s fastball, low-90s cutter, and mid-to-high 80s change-up accounting for 90 to 95% of his offerings.
Last Outing (vs. CIN on 4/8) – 6.0 IP, 3 H, 1 R, 1 BB, 6 K
Saturday (1:05 PM EST): RHP Carlos Martinez
When Martinez first made his way to the show in 2013, it was as a reliever. And, despite his fantastic stuff and track record, there was always talk that his ultimate fate would be in the bullpen, as many believed that his 6'0″, 190 pound frame could not hold up to the rigors of full season in the rotation. Fast forward to today, and that sounds foolish at best as he produced 6.7 fWAR in 375 IP between 2015 and 2016 (along with a shiny 3.02 ERA). He keeps the ball on the ground (54.2% GB for his career) and racks up strikeouts (22.6 K%), and he's still just 25.
Martinez throws a four-seamer and two-seamer, both in the mid-90s, a hard curveball in the low-to-mid 80s, and a mid-to-high 80s change piece. He picks up most of his strikeouts with the curve, though he also gets plenty of whiffs (15.4% last year, 21.6% in 2015) on his change-up.
Last Outing (vs. CIN on 4/9) – 5.0 IP, 6 H, 6 R, 1 BB, 3 K
Sunday (8:05 PM EST): RHP Adam Wainwright
If it seems as if Wainwright has been around forever, it's probably because he kind of has. The 35-year-old has been in the Cardinals organization since 2003, having been acquired from the Braves alongside Jason Marquis in exchange for J.D. Drew. He began to show his age last season, posting the worst ERA of his career (4.62) by nearly a full run, as well as his worst FIP. There have been some suggestions that it was due to the rust from a lost 2015 season, but his ERA (4.49 to 4.79) and FIP (3.43 to 4.56) were much better in the first half. With a few surgeries and 2500-plus professional innings under his belt, it wouldn't be shocking if this is who Wainwright is now.
Wainwright still works with three fastballs – a low-90s four-seamer, a low-90s sinker, and a mid-80s cutter – and a big breaking curveball. His velocity hasn't dropped all that much, either, and he was never a hard-thrower.
Last Outing (vs. WAS on 4/10) – 4.0 IP, 11 H, 6 R, 2 BB, 3 K
The Bullpen
As I said above, the bullpen has been terrible thus far. The Cardinals currently have five relievers with an ERA over 6.00, including the $30 MM man Brett Cecil (13.50), and closer Seung Hwan Oh (9.64). The group has combined to allow six home runs in just 26.1 IP, and a lack of control (13 BB and 5 HBP) has only made matters worse. Their bullpen was middle-of-the-pack last year, and many of the pieces remain the same (Oh, Kevin Siegrist, Jonathan Broxton, Matt Bowman, and Trevor Rosenthal), and Cecil has essentially replaced the injured Zach Duke. One has to imagine that they'll turn it around soon enough – let's just hope it's not this weekend.
Who (Or What) to Watch
Aside from Molina's chest protector, of course.
Matt Carpenter is a personal favorite, as a player who is constantly reinventing himself. He didn't make his professional debut until he was 23, and he was essentially a non-prospect (even as he decimated minor league pitching) right up until his rookie year. All that he has done since then is post a 132 wRC+ in 3000-plus big league plate appearances. Carpenter also retooled his approach after the 2014 season, with a bit more aggression and a larger uppercut in his swing, resulting in significantly more power without losing much of anything. And, just for fun, he stopped swinging at the first pitch of the game in 2016, swinging at just 13.4% of the first pitch in his plate appearances overall.
From the Yankees perspective, it might be fun to see how Matt Holliday reacts to playing his old team for the first time; though, it would've been a better moment if the series was in St. Louis.