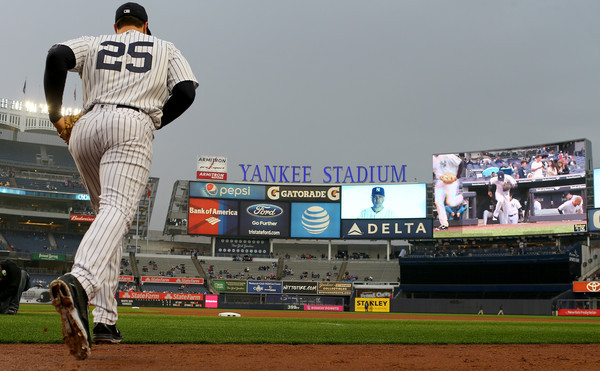 Last night's game went about as poorly as possible. Not only did the Yankees lose the game itself, they also lost Luis Severino to an arm injury and taxed their bullpen. Getting humbled by Chris Sale was no fun either. Today is a new day though. The Yankees have to continue to dig themselves out of this hole, and they'll have to do it against another tough pitcher in Jose Quintana this afternoon. Here is the White Sox's lineup and here is the Yankees' lineup:
LF Brett Gardner
2B Starlin Castro
1B Mark Teixeira
RF Carlos Beltran
C Brian McCann
3B Chase Headley
CF Aaron Hicks
SS Didi Gregorius
DH Austin Romine
RHP Ivan Nova
It's a bit cloudy in New York today and there is rain in the forecast a little later on. Nothing that should impact the game unless it goes long or into extra innings. This afternoon's game is going to start a bit after 1pm ET and you can watch on YES. Enjoy.
Injury Updates: Jacoby Ellsbury (hip) is available today and the plan is to have him in tomorrow's starting lineup … Severino (triceps) will make at least one minor league rehab start, according to Brian Cashman. Cashman also seemed to indicate Severino is not guaranteed a rotation spot once he's healthy.
Roster Moves: As expected, the Yankees called up Chad Green today. They also called up Conor Mullee, which is pretty awesome. The 28-year-old has had his elbow rebuilt three times and now he gets affordable health care for life. Awesome. To make room on the 25-man roster, Severino was placed on the 15-day DL and Gary Sanchez was sent down to Triple-A. I assumed the Sanchez call-up was a short-term thing, but not this short-term. Whatevs. Greg Bird and Bryan Mitchell were transferred to the 60-day DL to clear 40-man spots for Green and Mullee.