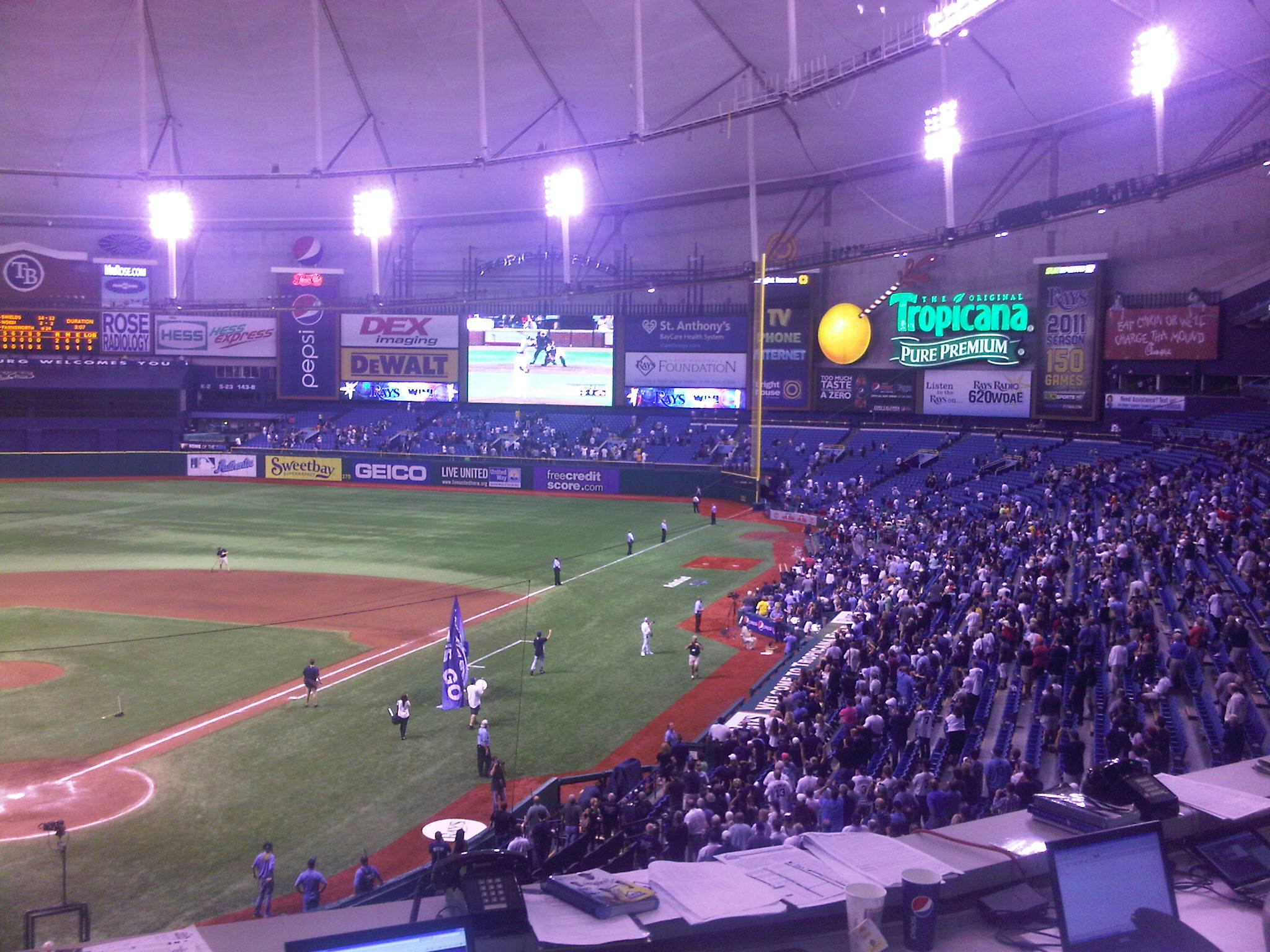 That was Tropicana Field last night, shortly after the Rays beat the Yankees by the score of 5-2. The majority of the 18-something-thousand fans in attendance stayed at their seats after Red Sox-Orioles game was put on the big board, just in time for the final two outs. The fans collectively groaned when Dustin Pedroia drove in a run, then booed when David Ortiz followed that with an infield single. Adrian Gonzalez flew out for the second out of the inning, and that drew a ton of cheers.
While all this was going on in the stands, the Yankees were in their clubhouse without a care in the world. You'd never know they had just lost a game to a division rival, they were too busy poking fun at the rookies for their early-90's music costumes. Russell Martin told a story about how he asked the home plate ump if he had stretched before the game because he (or his strike zone) was a little tight. Joe Girardi vaguely explained his pitching plans for the next two days. Phil Hughes zipped up Austin Romine's Madonna outfit. They were a team with nothing to play for at the moment, and it showed.
Outside though, outside that clubhouse, it was a celebration. Jed Lowrie had swung over a Jim Johnson sinker for strike three, the 27th out in Boston's latest failure to distance themselves from the Rays. Less than 24 hours earlier, Jacoby Ellsbury was being hailed as the no-doubt MVP for his game-winning, 14th inning homer off Scott Proctor in the Bronx, but now he was a goat. A goat because of this …
The ball was in glove, and then it wasn't. The result was the first inside-the-park homerun by an Orioles player in Camden Yards history, a three-run number by Robert Andino that turned a 3-2 lead into a 6-2 lead. The Trop exploded when  Lowrie went down swinging, a thunderous combination of cowbell, cheers, and whatever the hell that foghorn thing they play after homeruns and wins is … all combined with great acoustics (hooray for the dome!). The press box was literally shaking, and honestly, it was one of the coolest things I've ever experienced at a ballpark.
This collapse is just … it's unthinkable. I mean, 2004 was just completely different. That was a short series where the proverbial "anything can happen" happened. This Red Sox collapse is a month-long stretch of ineptitude, a team beating itself with bad defense, really bad pitching, and just not enough offense to makeup for it. Boston has gone from nine games up with a 99.6% chance of making the postseason on September 3rd to tied in the loss column with a 63.3% chance of making the postseason just 24 days later. Take a second to wrap your head around that.
As Yankees fans, we're conditioned to hate the Red Sox and laugh at their misfortune. It comes with the territory, so this collapse is right in our wheel house. No sympathy, nothing. But we don't ever think about the other end of The Collapse (has to be capitalized at this point, right?), the team that did the catching up. I got to experience that firsthand last night, or rather I got to observe fans who experienced that firsthand last night. It wasn't about the suffering of the Red Sox, it was about the excitement of the Rays. A young, exciting, and likable team that legitimately qualifies as an underdog doing things underdog teams do. It was a very different view of things as a Yankees fan, a view of a world where winning isn't a birthright. Apparently that way of life can be fun too.
(Ellsbury .gif via @bubbaprog)