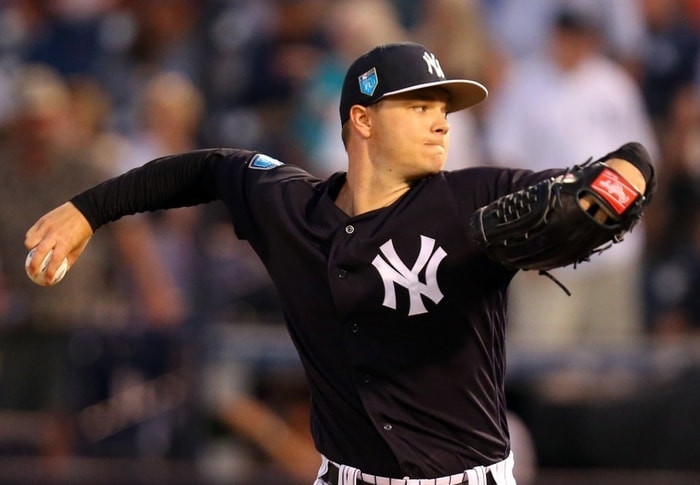 There was a great deal of consternation about the state of the Yankees rotation during the off-season, and whether or not that was justified remains an unanswerable question. A great deal of that justification – or lack thereof – hinges upon the fact that the team dramatically upgraded its rotation 2018 outlook well before the off-season began; in point of fact, that upgrade occurred on July 31, 2017, when Sonny Gray was acquired from the Oakland A's, in exchange for James Kaprielian, Dustin Fowler, and Jorge Mateo. It seems as though Gray's place on the team and ability to stabilize the middle of the rotation has been forgotten, be it due to his relatively unassuming performance with the team, or the simple fact that there is little flash to his substance or style. Regardless, Gray is here, and I'm certain the Yankees couldn't be happier.
The Story So Far
There are two ways to look at Gray's time in pinstripes thus far. The first is on a simple run-prevention basis, at which he excelled. Gray's 3.72 ERA with the Yankees translates into a 122 ERA+, which would have been good for tenth in the American League last year, or twentieth in all of baseball. There were concerns about his ability to perform at such a high-level when moving from the pitcher's paradise that is Oakland Coliseum to the hitter's haven of Yankee Stadium, and yet he excelled.
Of course, it's not that simple.
When you look beneath the hood, you see some regression from Gray. His strikeout (down 2.3 percentage points), walk (up 2.2 percentage points), groundball (down 9.4 percentage points), and home run (up 3.8 percentage points) numbers all trended in the wrong direction after the trade, and that can be visualized in his 4.87 FIP with the Yankees. By that measure he overperformed his peripherals significantly, and that's generally a precursor for regression.
How much of it had to do with Yankee Stadium, though? The short answer is quite a bit. Gray made eleven starts with the Yankees – five at home, and six on the road. The numbers breakdown as follows:
Home: 28.2 IP, 3.8 BB 9, 9.1 K/9, 8 HR, 0.8 GB/FB, 5.65 ERA
Road: 36.2 IP, 3.6 BB/9, 7.4 K/9, 3 HR, 1.1 GB/FB, 2.21 ERA
Gray struck out and walked more batters at home, and allowed way more home runs and fly balls there, as well. This is a small sample size within a small sample size, so it could be a matter of noise, but it's something that bears watching over time. And it also raises a question:
Does He Pitch Differently In Yankee Stadium?
Not really. Let's take a look at his pitch usage in pinstripes:
Gray is a legitimate four-pitch pitcher, and he dabbles in a fifth and sixth offering at times. And in 2017, and his career as a whole, he seems to go with whatever's working over the course of a single game. The fluctuation from game-to-game doesn't tell us much of anything.
That being said, it may simply be that Gray is nibbling more often at home. That could explain the increase in walks and strikeouts, though he did actually throw more pitches per batter on the road (3.88) than at home (3.82). And, while this doesn't quite account for his spots within the zone, Gray's zone-percentage was virtually identical at home and on the road.
There may not be a simple answer to the question regarding Gray's shakiness at Yankee Stadium, so a "wait and see" approach may be the best approach. It is definitely something that bears watching, though. And, as a reminder:
He Wasn't A Product Of Oakland Coliseum
Gray has thrown 386.0 IP of 3.50 ERA ball at O.Co, to go along with 7.5 K/9 and 2.6 BB/9. He has thrown 384.1 IP elsewhere, with a 3.40 ERA, 8.1 K/9, and 3.3 BB/9. Yankee Stadium may be a different beast than the other parks that Gray has pitched in, but it's worth remembering that he has been a high-end starter regardless of the ballpark.
The Projection Systems
Steamer: 186.0 IP, 7.9 K/9, 3.1 BB/9, 4.26 ERA, 4.29 FIP
ZiPS: 168.1 IP, 8.4 K/9, 2.9 BB/9, 3.64 ERA, 3.96 FIP
PECOTA: 174.1 IP, 8.0 K/9, 3.3 BB/9, 3.98 ERA, 4.30 DRA
Not great, Bob.
Steamer and PECOTA are both giving a fair amount of weight to Gray's injury-riddled and oft-ineffective 2016 – and that's fair. ZiPS is essentially taking his 2017 at face value and copying and pasting it for 2018. And, given his career to-date, that's fair, too. If permitted a bit of optimism, I would give the most weight to that.
My Take
I'm a big fan of Gray; I was ecstatic when they traded for him, and I'm excited to see what he can do in a full season for the Yankees. There were some warts on his shiny ERA following the trade, and I can understand why he is viewed as something of a question mark heading into 2018. At the same time, though, he is a 28-year-old starter that has pitched like an ace at times, and has a fantastic repertoire – and he's only really expected to be the team's third starter. And there aren't many – if any – better third starters in the game.