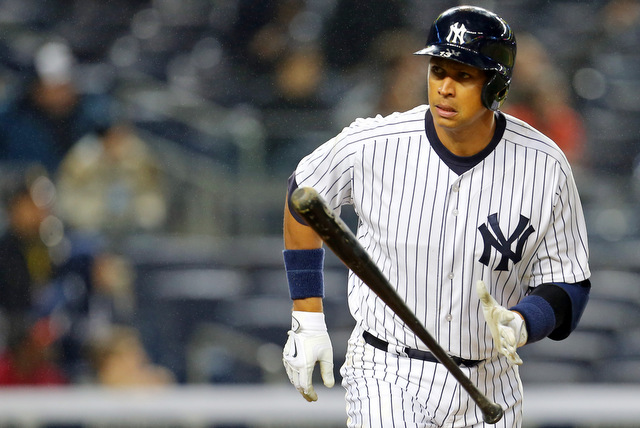 For the first time in ten seasons, the Yankees played without Alex Rodriguez last year. A-Rod was suspended the entire 2014 season due to his ties to Biogenesis, and for the most part he stayed out of the spotlight. Every few weeks some photos of him attending a college football game or something like that popped up, but that's all. Last year was a quiet year for A-Rod.
The 2015 season was much different. Rodriguez returned to the Yankees and no one knew what to expect out of him, both on and off the field. Not only did he miss the entire 2014 season, he also played only 44 games in 2013 due to injury, plus Alex was closing in on his 40th birthday. Throw in his two surgically repaired hips — as well as one surgically repaired knee — and it was impossible to know what A-Rod could provide in 2015. As it turned out, Alex had a lot to offer.
Where Does He Fit?
Rodriguez's suspension ended after the World Series last year. He was reinstated from the restricted list and reclaimed a spot on the 40-man roster. The usual chatter about releasing him or trying to void his contract came and went and of course nothing happened. Alex remained in the organization. The question was where did he fit?
The Yankees made it clear last offseason they were not counting on Rodriguez. They re-signed Chase Headley and declared him their starting third baseman. They acquired Garrett Jones and talked about using him as the DH against right-handed pitchers. The Yankees were proceeding as if Alex was an unproven commodity, which he was, for all intents and purposes. It was impossible to know whether he could still contribute. Where did he fit? No one knew. So the Yankees prepared almost as if A-Rod wasn't around.
The Spring
As he has most years, Rodriguez reported to Spring Training early to get a head start on his preparation for the season. He worked out some during the suspension last year — more than some, really, A-Rod's preparation and work ethic has never been an issue — but getting back up to speed for the MLB game was going to be a long process. Reporters were literally counting his batting practice home runs on the back fields in Tampa, as if the number was relevant.
Once Spring Training started, Alex worked out at third base, worked out a tiny bit at first base, and hit. He hit and hit and hit. Rodriguez played in 19 of 33 Grapefruit League games and rode the bus for road trips unlike other veterans of his stature. He played in minor league games, he took extra batting practice … he hit. Every day A-Rod was hitting to get his timing back. Alex singled in his first Spring Training at-bat and the tabloids went to town: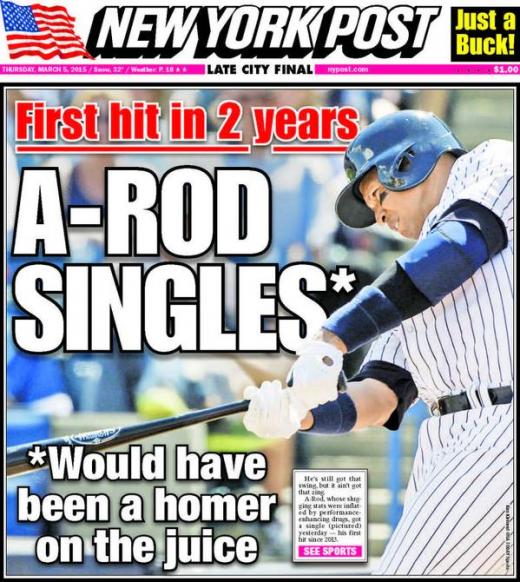 More than anything this spring, I remember A-Rod looking comfortable at the plate. He was swinging at strikes and laying off balls. The plate discipline was still there, and that was a good start. You can't hit if you can't tell a ball from a strike, and even after the long layoff, A-Rod's batting eye was there. He also showed that if the pitcher made a mistake, he was still able to punish it:
Rodriguez finished the spring with a .267/.377/.489 batting line and three homers in 53 plate appearances. He drew eight walks and struck out 13 times. All things considered, A-Rod looked as good as anyone could have reasonably hoped. The batting eye was there, he showed some semblance of power, and his days in the field weren't a total disaster either. Alex had to answer a lot of questions this spring, and he answered almost all of them in a positive way. The only thing he couldn't do was run, understandably.
Earning More Playing Time
The strong spring was not enough to convince Joe Girardi that A-Rod was ready to be a big part of the offense, however. Rodriguez batted seventh on Opening Day and seventh the next day as well. Girardi moved him up to second against a lefty in the third game, but it was back down to sixth soon thereafter. The Yankees felt they had better options for the middle of the order. A-Rod's track record didn't earn him a premium lineup spot come the start of the season.
Rodriguez was quite productive early on, going 8-for-28 (.286) with two doubles and two home runs in his first nine games of the season. His big coming out party was April 17th in Tampa, in the Yankees' tenth game of the season. A-Rod went 3-for-4 with two home runs — the first a moonshoot to dead center — and also drove in the game-winning run with an eighth inning single.
That was the game that convinced Girardi — that convinced everyone, really — Alex was back and ready to contribute in a big way. He was not a platoon DH, he was not a No. 7 hitter, he was a middle of the order thumper. Girardi batting A-Rod third the next game and he remained in the middle of the order the rest of the season. The Yankees were counting on nothing from A-Rod, everything they did last offseason showed it, but early on he proved he could help the team.
Vintage Al
The first half of the season was vintage Alex Rodriguez. Well, it was a close approximation of vintage A-Rod. In 82 first half games, Rodriguez hit .278/.382/.515 (144 wRC+) with 13 doubles and 18 home runs in 348 plate appearances. I spent the first half waiting for the other shoe to the drop, it was all too good to be true, but every time A-Rod slumped, he shook it off and started hitting again.
Among the 162 qualified hitters in the first half, Rodriguez ranked 12th in OBP, 19th in SLG, 14th in wRC+, and 18th in home runs. He was, legitimately, a top 20 hitter in baseball prior to the All-Star break. Alex was not selected to the All-Star Game — manager Ned Yost said he wanted versatility on his bench and there was no place for another DH — but the fact he was even in the discussion was a major win for the Yankees. A-Rod was a force at the plate.
History, With An Exclamation Point
A-Rod came into the season with several major milestones — historic milestones, stuff we won't see happen again for a long time — within reach, and he got them all. The first came early in the season, when he tied Willie Mays for fourth place on the all-time home run list with his 660th dinger. It was a meaningful home run too, a pinch-hit go-ahead blast in the eighth inning at Fenway Park.
A few days later A-Rod passed Mays with his 661st career blast to take sole possession of fourth place on the all-time list. The 660th home run triggered the first of five $6M home run milestone bonuses in his contract — the bonuses are actually not in A-Rod's player contract, they're part of a separate marketing agreement with the team — but the Yankees opted not to pay. They deemed the milestone "unmarketable" due to Rodriguez's performance-enhancing drug ties, which was their right as part of the agreement.
The situation could have gotten messy. A-Rod could have filed a grievance immediately, but he opted to let the MLBPA handle it behind closed doors. (Even though Alex sued the union as part of his scorched Earth tour last year, they're not going to let a team not pay a bonus without a fight. That's not a precedent they want to set.) The two sides eventually reached a settlement in which a whole boatload of money was donated to charity. Not the full $6M, but several million. The process was relatively painless.
While all that was going on, A-Rod continued to climb the all-time hit leaderboard, and on June 19th, he became the 29th player in baseball history to record 3,000 hits. He did it in style too, joining former Yankees Derek Jeter and Wade Boggs as the only players in history to go deep for hit No. 3,000. Alex did it against Justin Verlander too, a brand name.
After the fight over the home run milestone bonus money, the Yankees actually held a small on-field ceremony for Rodriguez's 3,000th hit prior to a game later in the season. The team didn't acknowledge A-Rod's pursuit of his 660th home run because it could have been used against them in a legal battle over the $6M bonus, but I guess there were no such issues for the 3,000th hit.
Later in the season, A-Rod also joined the 2,000 RBI and 2,000 runs scored clubs. He is now third all-time in RBI behind Hank Aaron and Babe Ruth, and eighth all-time in runs. These are major historic milestones. This isn't the watered down 500 home run club. A-Rod ranks among the all-time greats in hits, homers, runs, and RBI. We saw him join some very exclusive clubs this summer.
The Second Half
Perhaps it was all too good to be true. Or perhaps a 40-year-old player was bound to wear down in the second half. Girardi and the Yankees went to great lengths to give A-Rod regular rest throughout the season, yet he still seemed to hit a wall down the stretch. After August 1st, Alex hit only .191/.300/.377 (83 wRC+) with nine home runs in 213 plate appearances. The walks (13.6%) were still there, but the power slipped (.186 ISO) and his strikeout rate jumped to 27.7%. It was 21.1% in the first half.
The drop-off in production in the second half was not a fluke. Rodriguez's batted ball tendencies all moved in the wrong direction in the second half:

A-Rod hit more BABIP-killing infield pop-ups in the second half, he hit the ball on the ground more often, and he also made more weak contact and less hard contact. The pop-ups are indicative of a guy who is juuust missing pitches for whatever reason. With an older player like A-Rod, it's easy to think his bat was slowed by fatigue, so he was getting beat by pitches he squared up earlier in the season.
When it was all said and done, Alex hit .250/.356/.486 (129 wRC+) with a team-leading 33 homers this season, which is really awesome. By all accounts he was a model teammate in the clubhouse too. I would have signed up for that in a heartbeat before the season. The production was uneven — A-Rod was great in the first half and a drag in the second half — but overall A-Rod was a big asset at the plate in 2015. The second half was not nearly as good as the first. But the Yankees don't win a wildcard spot without Rodriguez this year. There is zero question about that.
No Defense, Literally
A-Rod's bat was very valuable to the Yankees this year. His glove? He barely needed it. The Yankees did work Alex out at both third base and first base during the Spring Training, and he did actually play two of the first six games of the season in the field, including his first career appearance at first base. It was … awkward.
Rodriguez looked very much like a guy playing first base for the first time in the big leagues. Overall, A-Rod played only six games in the field this season. He started two at third base and one at first base. Everything else was off the bench. In fact, aside from that one start at first, the only other time he played the position came in a blowout, when A-Rod replaced Jones at first base so Jones could pitch.
Alex played only 27.1 innings in the field this year and none after May 23rd. The Yankees decided they were best leaving him at DH exclusively to avoid — or at least limit — wear and tear over the course of the season. As good as Rodriguez had been at the plate, the lack of flexibility really hurt, as others like Carlos Beltran and Brian McCann were unable to get half-days off at DH.
Looking Ahead to 2016
Whether they like it or not, the Yankees are stuck with Rodriguez next year. He is owed $21M both next year and the year after, and there's no reason to think he'll be traded or released or retire. The productive first half bought A-Rod some rope heading into next season, though I get the sense the Yankees will again make Rodriguez prove he deserves regular playing time, especially with Greg Bird available to steal at-bats. Even with the ugly second half, the Summer of Al sure was fun, wasn't it?