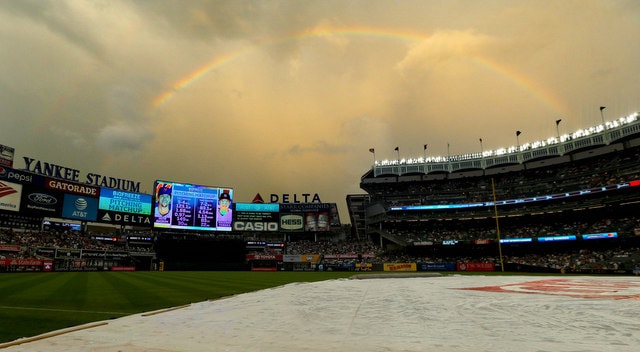 Today was supposed to be an off-day. Instead, the Yankees will make up a(nother) game that was rained out earlier this season. The Yankees and Mets were rained out on Sunday, July 22nd, and that is the game they're playing tonight. It's the final game of the 2018 Subway Series. The two teams split the first two games of this series and the Yankees lead the season series 3-2.
The original pitching matchup on July 22nd: Luis Severino vs. Jacob deGrom. The pitching matchup tonight: Luis Severino vs. Jacob deGrom. Funny how that worked out. deGrom has been out of this world this season. He leads the league in ERA (1.77), ERA+ (212), and FIP (2.21). And somehow the Mets are 9-14 in his 23 starts. I do not understand. The Yankees have already beaten deGrom once this year (remember this?), but make no mistake, this dude is as good as it gets. Here are the lineups:
New York Yankees
1. LF Brett Gardner
2. DH Giancarlo Stanton
3. SS Didi Gregorius
4. CF Aaron Hicks
5. 3B Miguel Andujar
6. 1B Greg Bird
7. 2B Gleyber Torres
8. RF Neil Walker
9. C Austin Romine
RHP Luis Severino
New York Mets
1. SS Amed Rosario
2. RF Brandon Nimmo
3. LF Michael Conforto
4. 1B Wilmer Flores
5. 2B Jeff McNeil
6. 3B Todd Frazier
7. CF Austin Jackson
8. DH Jose Bautista
9. C Devin Mesoraco
RHP Jacob deGrom
It has been raining on and off all day and it is supposed to continue raining on and off tonight. For a while it looked like we were heading for another rainout. That doesn't appear to be the case any longer, however. Looks like there's enough of a window to play nine innings. Might be a bit sloppy though. Tonight's game will begin at 7:05pm ET and ESPN will have the broadcast. Not YES or SNY. The original game was a Sunday Night Baseball game, so they get the exclusive broadcast rights to the makeup game too. Enjoy the game.
Injury Updates: Aaron Judge (wrist) is still going through rehab work and is going for a checkup on the wrist tonight to see how it's healing … in case you missed it earlier, CC Sabathia has been placed on the 10-day DL with right knee inflammation. Sucks. Also, Luke Voit was sent down and both George Kontos and Ronald Torreyes were called up. Jordan Montgomery was transferred to the 60-day DL to clear a 40-man roster spot for Kontos.