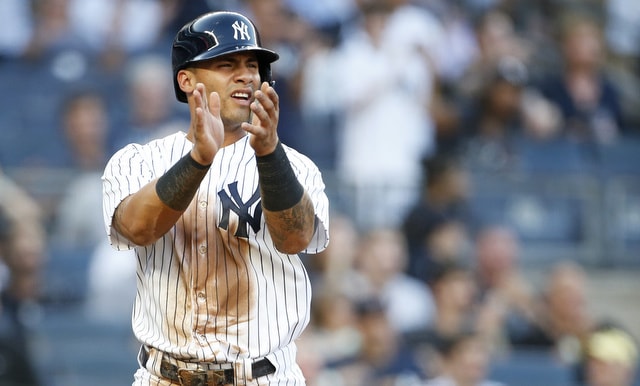 Game 100 is always an interesting milestone for me. The season is more than halfway over and has been for a while now, but seeing that triple-digit game number really drives home the point that damn, we're getting into the home stretch here. Crazy how fast the baseball season can go by. At least it's been a fun one so far. Lots of teams out there are basically running out the clock and waiting for the season to end.
Anyway, welcome back Gleyber Torres! As expected, he was activated off the disabled list today. He missed 15 games — was it really only 15 games? — and, during those 15 games, his second base replacements hit .255/.328/.455 with five doubles and two homers. Neil Walker hit .294/.415/.471 in 41 plate appearances while Gleyber was out. Huh. Who knew? Anyway, glad Torres is back. He's good and fun. Here are this afternoon's lineups:
New York Yankees
1. CF Brett Gardner
2. RF Aaron Judge
3. SS Didi Gregorius
4. LF Giancarlo Stanton
5. 2B Gleyber Torres
6. 1B Greg Bird
7. 3B Miguel Andujar
8. DH Neil Walker
9. C Kyle Higashioka
RHP Luis Cessa
Tampa Bay Rays
1. CF Kevin Kiermaier
2. 3B Matt Duffy
3. 1B Jake Bauers
4. DH C.J. Cron
5. LF Joey Wendle
6. 2B Daniel Robertson
7. RF Carlos Gomez
8. SS Willy Adames
9. C Adam Moore
RHP Ryne Stanek
Nathan Eovaldi was supposed to start for the Rays today, but he was scratched this morning because he's been traded to the Red Sox. So much for that. Anyway, it is hot and raining outside in St. Pete and nice and cool inside Tropicana Field this afternoon. Today's game will start at 12:10pm ET. I didn't accidentally post the game thread early. It is a 12:10pm ET start. YES will have the game locally and MLB Network will have the game out-of-market. Enjoy the ballgame.
Roster Moves: Gio Gallegos was sent down after last night's game and Luis Cessa was called up this morning to make today's start. He's taking Domingo German's rotation spot … Tyler Wade was sent down to Triple-A Scranton to clear a roster spot for Torres.
Injury Updates: Aaron Hicks jammed his shoulder sliding into second base the other night and is doing better. He took batting practice the last two days and everything went well. Hicks is available to play today, though the Yankees are giving him that one extra day to rest up … Brandon Drury is going to avoid the disabled list after taking that pitch to the hand last night. He is day-to-day.
Zach Britton Update: Zach Britton is not with the Yankees and isn't on the active roster for today's game. He'll meet the club in New York tomorrow for the start of the homestand. The trade went down late last night and there's no sense in making him travel to Tampa, arrive late to today's game or possibly miss it entirely, and then turn right around and fly to New York with the team this evening.