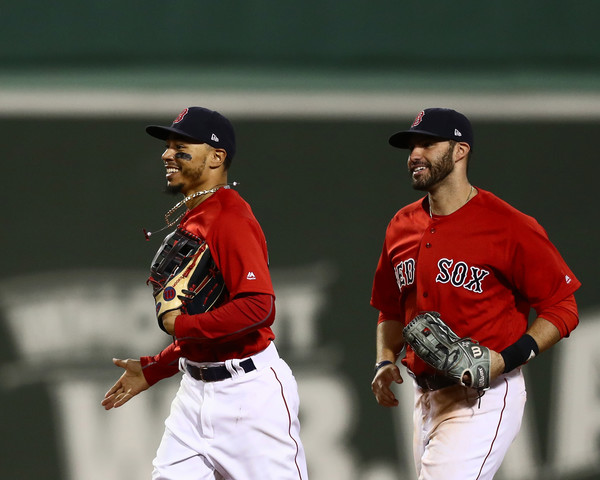 Tonight represents not only the battle for first place in the AL East, but also the beginning of the Yankees last homestand of the first half. They'll host the Red Sox for three games, and then welcome the Braves for another three, before hitting the road for 11 games in 10 days.
The Last Time They Met
The Yankees took two of three from the Red Sox back in May, with two of those games being decided by one run. They entered the series trailing the Red Sox by a game, and ended it tied for first; and they've traded division leads back and forth ever since. Some notes from the series:
Aaron Judge had a great series, going 5-for-10 with a home run, five RBI, and four walks (against just two strikeouts).
Judge's home run was this rocket off of Craig Kimbrel, which was the hardest-hit ball (at 117 MPH) the Red Sox closer has ever allowed.
Luis Severino was quite good in the first game, producing the following line: 6 IP, 6 H, 2 R, 2 ER, 0 BB, 11 K. I mention this because it was, by game score, his 10th best start of the season … which is insane. He's a capital-a Ace.
Dellin Betances surrendered what would be the game-winning home run in the third game, which is bad. Since then, however, he has pitched to the following line: 19.0 IP, 2 H, 1 R, 11 BB, 32 K, 0.47 ERA. And that's good.
Check out Katie's Yankeemetrics post for more information on the series as a whole.
Injury Report
The Red Sox remain fairly banged-up, with Dustin Pedroia (knee inflammation), Drew Pomeranz (biceps tendinitis), Carson Smith (season-ending shoulder surgery), and Steven Wright (knee inflammation) all on the disabled list, and out until mid-July at the earliest. And then there's Tyler Thornburg, who has been awful in his rehab tour of the upper minors; he's eligible to return now, and his 30-day rehab window closes soon – whether or not he'll get the call is anyone's guess as of now.
Their Story So Far
Boston is an MLB-best 55-27 with a +125 run differential, and are currently a game ahead of the Yankees in the AL East (and for the best record distinction). They've won four in a row by a combined score of 27-9, and are generally playing excellent all-around baseball. And, just for the sake of comparison, they're one of two teams with a 17-1 stretch this season, with the Yankees being the other.
Painting in broad strokes, the Red Sox are second in the majors in runs scored, second in run differential, sixth in runs allowed, and eleventh in the FanGraphs all-encompassing defense metric. If they do have a weakness, it's the somewhat 'stars and scrubs' nature of their lineup, which you'll see below.
The Lineup We Might See
The Red Sox lineup has been shaken up by injuries (lest we forget that Betts and Bogaerts both spent time on the DL), poor performances (wait 'til you get a load of some of the numbers below), and surprising cuts (so long, Hanley). However, manager Alex Cora has largely stuck with this template:
Mookie Betts, RF – .336/.425/.676, 20 HR, 14 SB, 193 wRC+
Andrew Benintendi, LF – .286/.370/.512, 13 HR, 13 SB, 137 wRC+
J.D. Martinez, DH – .326/.394/.648, 25 HR, 2 SB, 179 wRC+
Xander Bogaerts, SS – .280/.342/.512, 12 HR, 2 SB, 128 wRC+
Mitch Moreland, 1B – .290/.357/.548, 11 HR, 1 SB, 143 wRC+
Eduardo Nunez, 2B – .254/.287/.362, 5 HR, 4 SB, 73 wRC+
Rafael Devers, 3B – .242/.287/.430, 13 HR, 5 SB, 88 wRC+
Christian Vazquez, C – .224/.262/.318, 3 HR, 1 SB, 55 wRC+
Jackie Bradley, CF – .202/.291/.335, 6 HR, 8 SB, 71 wRC+
Sandy Leon (76 wRC+) will probably get a start at catcher, too.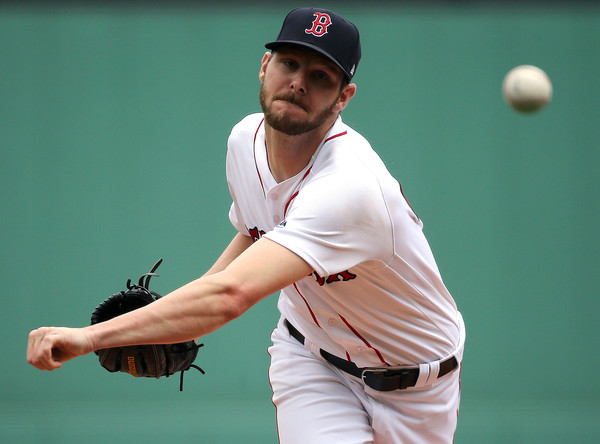 The Starting Pitchers We Will See
Friday (7:05 PM EST): LHP CC Sabathia vs. LHP Eduardo Rodriguez
This will be the second time the Yankees see Rodriguez this year; the first time was back on May 10, when the 25-year-old southpaw tossed 5 scoreless innings, allowing one hit and three walks, while striking out eight. And that has been the norm with this match-up, to an extent, as Rodriguez sits on a 2.70 ERA in 10 starts (56.2 IP) against the good guys. The Yankees have hit him around a few times, to be sure – but he has been quite effective overall. He's currently sitting on a 3.86 ERA (114 ERA+) in 81.2 IP this season, with above-average strikeout (26.1%) and walk (7.4%) rates.
Last outing (vs. SEA on 6/23) – 4.0 IP, 7 H, 5 R, 2 BB, 2 K
Saturday (7:15 PM EST): RHP Sonny Gray vs. LHP Chris Sale
Sale's last outing against the Yankees was very good (6.0 IP, 8 H, 1 R, 0 BB, 8 K), but it may be best remembered for being a part of a Red Sox 14-1 victory back on April 10. That was an awful game to watch, wasn't it? But I digress. Sale has been his typically brilliant self this year, with a 2.56 ERA (172 ERA+) in 109.0 IP, with an AL-best 153 strikeouts. He's also in the midst of a fairly dominant stretch, having allowed just four runs in his last four starts (28.0 IP).
Last outing (vs. SEA on 6/24) – 7.0 IP, 4 H, 0 R, 1 BB, 13 K
Sunday (8:05 PM EST): RHP Luis Severino vs. LHP David Price
The Yankees beat-up on Price back on April 11, knocking him out of the game after just one inning. His Red Sox tenure has been up and down, to say the least, with injuries and bouts of ineffectiveness garnering headlines, and an opt-out looming at the end of this season (spoiler: he's not going to opt-out of a guaranteed $127 MM). Price has looked like his old self for the last seven weeks or so, pitching to a 2.72 ERA (3.42 FIP) in his last nine starts (56.1 IP), along with strong strikeout and walk rates.
Last outing (vs. LAA on 6/26) – 6.0 IP, 5 H, 1 R, 2 BB, 7 K
The Bullpen
Aaron Judge's monstrous home run aside, Craig Kimbrel has been light's out as the closer, posting a 2.16 ERA and 38.6% strikeout rate, and converting 24 of his 26 save opportunities. Joe Kelly is still the set-up man, and has been solid despite some ups and downs, and Matt Barnes has emerged as a tremendous late innings option. Heath Hembree and Hector Velazquez are their best middle innings options.
Who (Or What) To Watch
It's a Yankees vs. Red Sox series where first place in the division (and possibly the league) is on the line – what more do you need?