The Good Giancarlo
The Yankees epic and historic romp through the beasts of the AL continued in the series opener with another white-knuckle, drama-filled win over the Red Sox. Through Tuesday, it was their 16th win in the last 17 games (dating back to April 21), a run that is even more remarkable considering that all six teams they've faced during this extended stretch were in first or second place in their division at the start of the series.
Giancarlo Stanton sparked the offense early, homering in his first two at-bats to give the Yankees a 2-0 lead after four innings. The home runs couldn't have been more different, too. The first one was a laser shot he scorched down the left field line and over the fence. It had a launch angle of 17 degrees, the lowest for any of his home runs this season. The second one was a majestic opposite-field shot that left his bat at an angle of 31 degrees, the highest for any homer he's hit this year.
While Stanton has suffered through
an inconsistent start in 2018
, he's had a few outbursts of offensive production, and this was the third time he's launched two or more homers in a game so far. He's just the fourth Yankee ever to have three multi-homer games within the team's first 35 contests, joining A-Rod (2007), Roger Maris (1960) and Mickey Mantle (1956). Oh, and if those names/years sound familiar, it's because each of the previous three guys went on to win the AL MVP that season.
After the Red Sox battled back to tie the game at 2-2, Aaron Judge took over the hero role when he laced a tie-breaking RBI single in the seventh inning off newest Yankee villain Joe Kelly. Prior to that at-bat, Judge was 0-for-6 with three strikeouts in his career against Kelly. And, though it's hard to believe, that single was the first time Judge delivered a go-ahead hit in the seventh inning or later at Yankee Stadium.
As the Yankee bats were mostly silent aside from Stanton's fireworks, Luis Severino shined on the mound, dominating the Red Sox with his ace-like stuff. Overcoming a shaky defense behind him, Sevy struck out 11 and walked none while allowing just two runs across six innings. He became the first Yankee with at least 11 strikeouts and no walks in a game against the Red Sox since Mike Mussina's memorable near-perfecto on September 2, 2001.
Severino's slider was nasty as usual (11 whiffs, 9 strikeouts), but more impressive was the increased usage and effectiveness of his changeup. He threw a season-high 24 changeups, showing excellent command of his offspeed stuff. As you can see below, he located nearly all of those changeups in the strike zone or just off the plate, keeping the hitters off-balance while generating six swings-and-misses and six foul strikes with the pitch.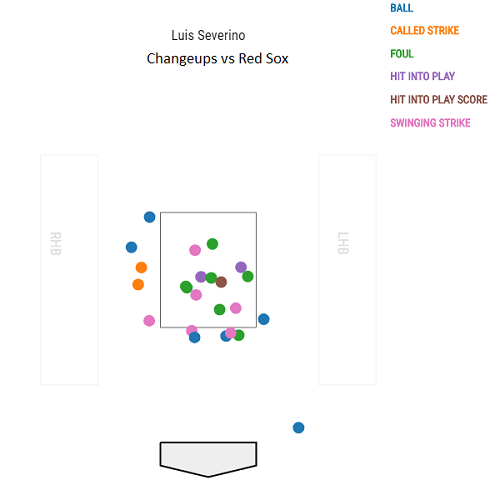 Gritty, Gutty Brett Gardner
The unstoppable pinstriped freight train kept chugging along on Wednesday night, as the Yankees comeback mojo propelled them to yet another wild and crazy victory. It was their 17th win in their last 18 games, and over that span they've outscored their opponents by a whopping 65 runs. The only other years that the Yankees had an 18-game run that included at least 17 wins and a run differential of plus-65 or greater were 1953 and 1947 — and both of those seasons ending with a World Series celebration.
You really can't describe these wins as shocking or stunning anymore — no lead is safe against this Yankees juggernaut. After erasing a 6-5 deficit with four runs in the eighth, this was their AL-best fourth win when trailing at the start of the eighth inning, and all four came in the last two weeks.
Perhaps the most impressive part of their scorching-hot run was that there was a different hero nearly every night. Through Wednesday, during the eight-game win streak, seven different players produced the game-winning run:
May 1: Gary Sanchez go-ahead homer in top of ninth
May 2: Giancarlo Stanton two-run homer in top of first
May 3: Aaron Judge go-ahead RBI groundout in top of ninth
May 4: Miguel Andujar walk-off single in ninth
May 5: Ronald Torreyes reaches on error in fifth, go-ahead run scores
May 6: Gleyber Torres walk-off homer in ninth
May 8: Judge go-ahead bases-loaded walk in seventh
May 9: Brett Gardner go-ahead triple in eighth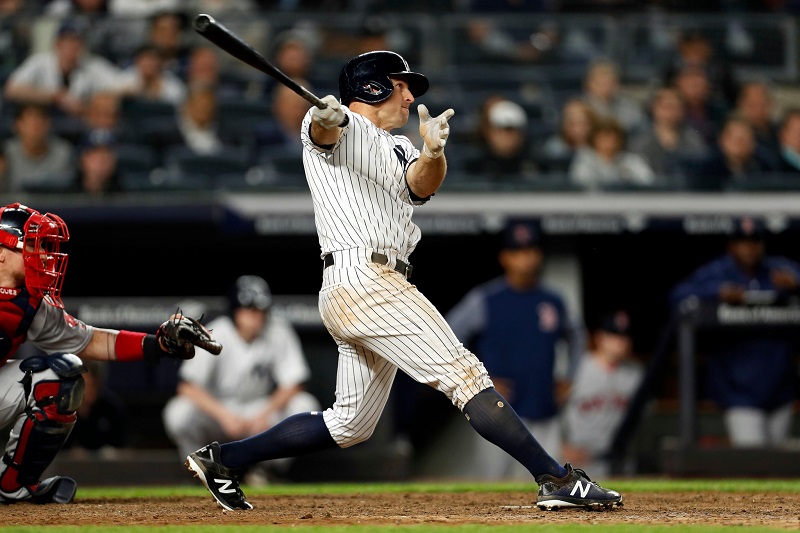 Gardner's heroics capped off a huge breakout game for the struggling leadoff hitter — who entered the game with a .127/.256/.127 line in his previous 18 games (79 plate appearances) — and then went 3-for-5 with two doubles and a triple. He was 1-for-6 with five strikeouts against Craig Kimbrel before knocking in the game-winning run on Wednesday.
#FunFact No. 1: The last Yankee (before Gardner) with a go-ahead triple in the eighth inning or later was Johnny Damon on June 20, 2006 against the Phillies.
#FunFact No. 2: Here's a list of Yankees with at least three extra-base hits, including a triple, in a game against the Red Sox at Yankee Stadium: Gardner, Bobby Brown (9/24/1948), Snuffy Stirnweiss (8/11/1946) and Charlie Keller (5/23/1941).
Judge then tacked on a couple insurance runs in that inning with a titanic two-run blast to center, sending the ball 429 feet with an exit velocity of 117 mph into Monument Park. It was the hardest-hit and the second-longest batted ball allowed by Kimbrel since Statcast tracking began in 2015.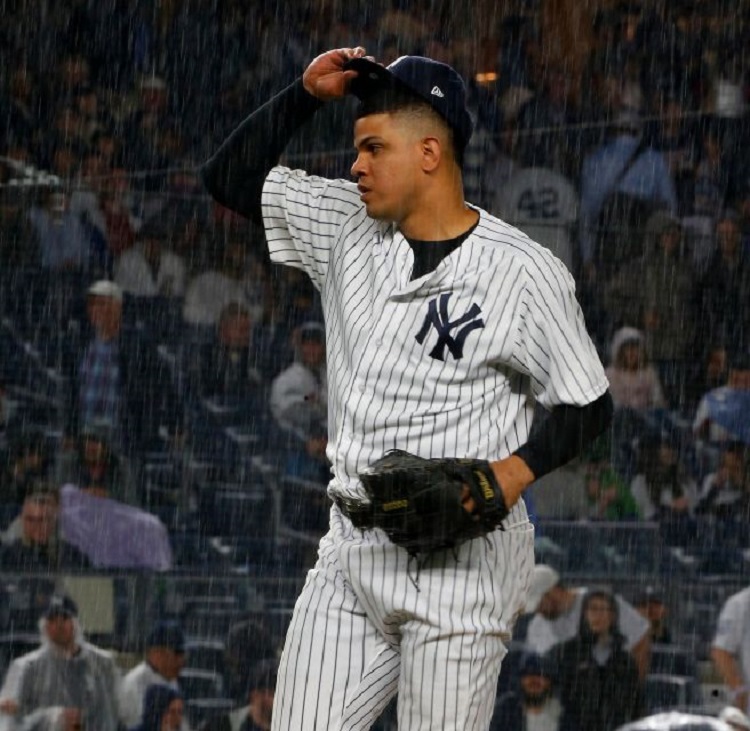 Bittersweet ending
The Yankees comeback mojo finally went dry on Thursday night, losing the series finale to the Red Sox despite the inevitable late-game rally. This time, however, they couldn't overcome another bullpen implosion as their eight-game win streak and historic three-week stretch came to an end. The Yankees also had their 11-game home win streak snapped, which was their longest at the current Yankee Stadium.
Dellin Betances wore the goat horns in the loss, surrendering the game-losing homer to J.D. Martinez in the top of the eighth after tossing a perfect seventh inning. It was the fourth home run Betances has allowed in 16 innings this season — he gave up just three longballs in 59 2/3 innings last year. This was also the third time this season that Betances had come out for a second inning, and the results have been ugly: in the second inning of work, he's allowed six runs on six hits across those three games. However, last year, in those same situations, he allowed zero runs in six games when coming out for a second inning of work.
CC Sabathia was rocked by the Red Sox in his worst start of the season, coughing up four runs on nine hits across four innings before the rain delay. The large lefty had been in vintage ace-like form for much of the season before this clunker, and entered the game riding a slew of favorable trends:
| | Starts | ERA | IP | ER | Runs |
| --- | --- | --- | --- | --- | --- |
| Thursday vs Red Sox | 1 | 9.00 | 4 | 4 | 4 |
| Entering the game | | | | | |
| Since April 19 | 4 | 0.39 | 23 1/3 | 1 | 4 |
| At Home in 2018 | 4 | 1.33 | 20 1/3 | 3 | 6 |
| Vs Red Sox Since 9/29/16 | 5 | 1.08 | 33 1/3 | 4 | 4 |
Jonathan Holder was the unsung hero of the game, taking over for Sabathia after the rain delay and keeping the game within reach as he retired all six batters faced. Since being recalled from Triple-A on April 21 (when Adam Warren went on the DL), Holder has been terrific out of the 'pen. In 8 2/3 innings, he's allowed just one unearned run on two hits with seven strikeouts and a walk. In his first three appearances of the season before being sent down, he was rocked for an ugly .467/.500/.733 line, giving up seven runs and seven hits in 2 2/3 innings.