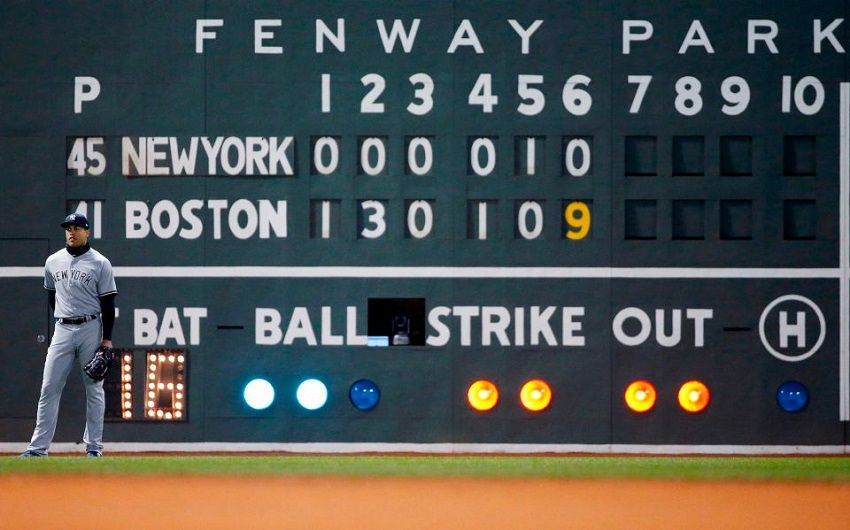 Humiliated in Beantown
There's ugly losses and embarrassing games … and then there's what the Red Sox did to the Yankees in the series-opening 14-1 rout at Fenway Park. Last year the Yankees' worst loss was by seven runs; they were the only team that didn't suffer a loss of eight-or-more runs. After Monday night's debacle, they joined the Phillies and Marlins as the only teams this season to lose a game by at least 13 runs.
If you believe in the power of deja vu and strange coincidences, the last time the Yankees lost by the exact score of 14-1 was August 22, 2009. The opponent? Red Sox. The place? Fenway Park. And that 2009 season turned out okay ….
While some blame must be placed on the dead-bat offense and lack of clutch hitting, the implosion by the pitching staff — from top to bottom — was the most humiliating part of the game.
Three Yankee pitchers allowed at least four runs, just the second time in the last 25 seasons of this rivalry that had happened (the other game was July 15, 2005 in a 17-1 loss at Fenway). While Luis Severino looked bad and put the Yankees in an early hole, the meltdown by Tommy Kahnle and Chasen Shreve in a disastrous sixth inning essentially torched the game.
The nine runs coughed up by the two pitchers in that frame was the Yankees most allowed in an inning against the Red Sox in nearly two decades (May 31, 1998). Six of those runs were unearned, their most given up in any game at Fenway Park since April 10, 1985 — the Yankee debut of anti-legend Ed Whitson.
Kahnle was charged with five runs in two-thirds of an inning pitched, the first Yankee reliever since Ron Davis in 1981 to give up five-plus runs while getting fewer than two outs in a game at Fenway Park. Shreve gave up only one hit but it was a painful one — a grand slam to Mookie Betts that made it 14-1. Betts had a historic night at the plate, going 4-for-4 with five runs scored and four RBI. The only other player to score at least five runs and drive in at least four runs in a game against the Yankees was Ken Griffey Jr. on May 24, 1996.
One of the few blemishes on Aaron Judge's historic rookie season was his .083/.233/.167 slash-line in nine games at Fenway Park. It was the worst batting average by any Yankee in a single season with at least 35 at-bats at the stadium.
He quickly slayed that dragon, going 3-for-4 with a mammoth 444-foot, 116.3 mph home run off Chris Sale in the fifth inning. Since Statcast began tracking data in 2015, it was the hardest-hit homer allowed by Sale and the second-longest homer allowed by Sale, behind a 451-foot blast from Tyler Flowers on July 8, 2016.
Fight Night
The Yankees rebounded from Tuesday's debacle with a 10-7 win, prevailing in an old-fashioned slugfest highlighted by dingers, haymakers and plenty of boiling-hot emotions. One day after scoring a single run on 10 hits, the Yankees pounded out 12 hits and plated 10 runs. It helps when you are 5-for-13 with RISP and 8-for-20 with runners on base, instead of 0-for-5 and 1-for-20 in those situations (as they did in the series opener).
Gary Sanchez busted out of his early-season slump with a monster game, going 3-for-5 with two homers, a double, three runs scored and three RBI. Entering Wednesday, there were 228 players with at least 30 plate appearances; Sanchez ranked 228th in batting average (.056), on-base percentage (.081), OPS (.248), wOBA (.112) and wRC+ (-41). Yeah, he was literally the worst hitter in baseball.
Sanchez's epic night at the plate put him in elite company:
He became the only Yankee catcher with at least three extra-base hits and four RBI in a game against the Red Sox.
It was also his eighth career multi-homer game, the most ever for a player in his first 200 career games. Oh yeah, this was Gary's 187th game in the majors.
Only four other Yankees had at least eight games with two-plus homers before their 26th birthday: Joe DiMaggio (17), Mickey Mantle (14), Lou Gehrig (13) and Joe Gordon (9). El Gary turns 26 on December 2, so he's got the entire season to climb that list too.
Masahiro Tanaka was solid through the first four innings — his only blemish was a solo homer to Hanley Ramirez in the first inning — but completely unraveled in the fifth. After surrendering an RBI double to Mookie Betts and then loading the bases, he left a flat slider over the heart of plate and J.D. Martinez planted it 436 feet into the centerfield seats. Before Martinez, the last Red Sox cleanup hitter to hit a grand slam against the Yankees was Jim Rice in 1987.
It was the second time in two games that the Red Sox hit a slam against the Yankees, a remarkable feat considering that in 76 rivalry games from 2014-17, the Yankees gave up zero grand slams to Boston. The last time the Yankees allowed slams in back-to-back games against the Red Sox was when Juan Rivera and Mike Greenwell pulled it off in 1990.
It was also the fourth grand slam the Yankees have given up in 2018 — the most in the majors and the most ever for the franchise in the team's first 12 games. The major-league record for a single season is 14 by the 1996 Tigers, and the most allowed by a Yankee pitching staff is nine in 2000. Stay tuned, folks.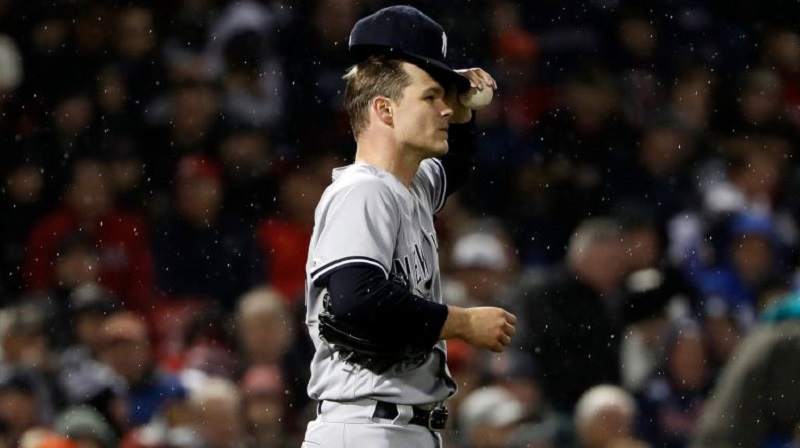 A Miserable Gray-day
The Yankees dropped the rubber game Thursday, 6-3, a score that looks much closer than the lifeless brand of baseball the team played for much of the night. The best part about the game was … they didn't get no-hit?
Sonny Gray was as awful as the weather at Fenway, getting rocked for six runs before getting pulled in the fourth inning. He also squeezed in three wild pitches and a hit batter. If that sounds hard to do, you are correct! For that horrible performance, Gray earned our Obscure Yankeemetric of the Series: He is the first Yankee pitcher ever to give up at least six earned runs, throw at least three wild pitches and hit a batter in an outing of fewer than five innings.
And following his latest clunker, Gray's career ERA at Fenway Park stood at 8.66 in four starts, with 36 baserunners allowed (28 hits, 8 walks) in 17 2/3 innings. He's also 0-3 with a 7.20 ERA in three starts against the Red Sox since joining the Yankees last July.
Aaron Judge was the first hero of the night, breaking up Rick Porcello's no-hitter with a booming lead-off double to deep center in the seventh inning. Judge entered that at-bat 1-for-12 in his career against Porcello. Gary Sanchez was the second hero of the night, ending the shutout with a three-RBI, bases-loaded double in the ninth. That gave him a .662 slugging percentage at Fenway Park, the highest by any Yankee at the ballpark (min. 60 PA), and just ahead of two guys named Babe Ruth (.634) and Roger Maris (.630).