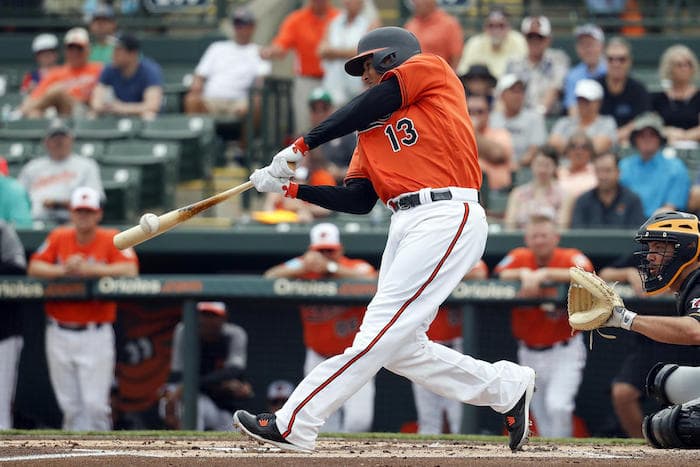 The Yankees begin the 2018 season tomorrow, so it's time to preview their division rivals. Here's a look ahead at the rest of the AL East.
Baltimore Orioles
2017 Record: 75-87
Notable Additions: Andrew Cashner, Alex Cobb, Colby Rasmus, Danny Valencia
Notable Subtractions: Welington Castillo, Ryan Flaherty, Jeremy Hellickson, Wade Miley, Seth Smith
The Buck Showalter Orioles had garnered a reputation as perennial overachievers over the last half-decade, finishing at or above .500 each year from 2012 through 2016, and making three playoff appearances along the way. They were a cumulative 16 games above their Pythagorean record, owing largely to their ability to roll out a strong bullpen each and every season, as well as a propensity for clutch hitting. That stretch of competence came to an end last season, though, as the Orioles finished last in the AL East for the first time since 2011.
What Went Right Last Year?
Not all that much, really. Dylan Bundy was healthy and mostly effective for a full season, Trey Mancini and Jonathan Schoop broke out, and the bullpen continued to turn anonymous journeymen into studs (see: Richard Bleier and his 1.99 ERA in 63.1 IP). That's about it.
What Went Wrong Last Year?
The Orioles had arguably the worst rotation in all of baseball, with only one starter posting an ERA under 4.68, and only one starter averaging 6-plus IP per start – and it was the aforementioned Bundy who achieved both. They also had to deal with significant regression from Chris Davis, Manny Machado, and Mark Trumbo, which meant that they lacked the offensive oomph to bail out their shoddy starting pitching with any sort of regularity.
Oh, and Zach Britton missed two months, tore his Achilles, and is out until at least May.
A Potential Lineup
Tim Beckham, 3B
Jonathan Schoop, 2B
Manny Machado, SS
Adam Jones, CF
Chris Davis, 1B
Trey Mancini, LF
Colby Rasmus, RF
Danny Valencia, DH
Chance Sisco, C
Showalter and Co. are counting on bounce-back seasons across the board this year, as the majority of the lineup remains the same. Rasmus is the biggest offensive addition from outside of the organization, and he did quite well with the Rays last year (139 OPS+ in 129 PA). Of course, his season ended rather abruptly when he decided to walk away from the game. Valencia made the Opening Day roster, as well, and will likely DH for the time being, as Mark Trumbo is on the disabled list with a hamstring injury.
The Probable Rotation
Dylan Bundy, RHP
Alex Cobb, RHP
Andrew Cashner, RHP
Kevin Gausman, RHP
Chris Tillman, RHP
Cobb was a quality signing for the Orioles, even if they somehow managed to pay more than was expected for the 30-year-old even after the market collapsed. And Cashner, likelihood of regression aside, is an upgrade over the Wade Mileys of the world. This rotation doesn't look much better than passable, but even that would be a massive upgrade for the team.
The Bullpen
The bullpen was a strength last year, and there's no real reason to expect otherwise going forward. Britton is out until at least May, which isn't great, but Brad Brach held down the fort when he was out last year, and he will be expected to do so again this year.
Ephemera
This might be the Orioles last hurrah, as Britton, Jones, and Machado are all free agents after this year.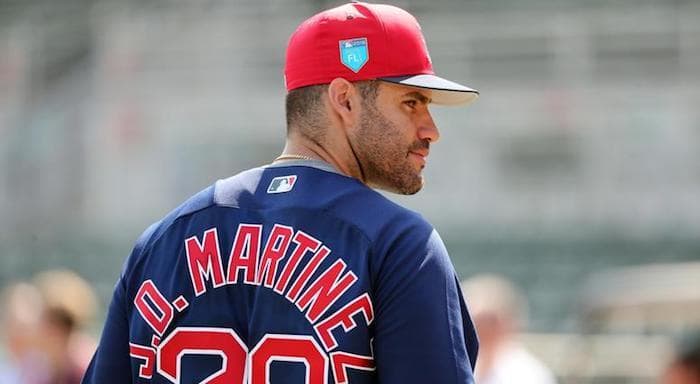 Boston Red Sox
2017 Record: 93-69
Notable Additions: J.D. Martinez
Notable Subtractions: Fernando Abad, Doug Fister, Addison Reed, Chris Young
The Red Sox won 93 games, won the AL East, and lost in the ALDS for the second year in a row, affording them a nice bit of symmetry in Year One Post-Ortiz.
What Went Right Last Year?
Chris Sale and Drew Pomeranz were one of the best one-two punches in the game, Craig Kimbrel may've been the best closer in the game, and rookies Andrew Benintendi and Rafael Devers were as good as advertised. Their pitching staff was terrific as a whole, finishing tied for third in the majors in park-adjusted ERA.
What Went Wrong Last Year?
Dustin Pedroia and David Price got hurt again, and Mookie Betts, Xander Bogaerts, and Jackie Bradley Jr. regressed. And their designated hitters combined to hit an almost perfectly average .244/.327/.419, which represents a staggering drop-off from what was once their greatest advantage.
A Potential Lineup
Mookie Betts, RF
Andrew Benintendi, LF
Hanley Ramirez, 1B
J.D. Martinez, DH
Rafael Devers, 3B
Xander Bogaerts, SS
Eduardo Nunez, 2B
Christian Vazquez, C
Jackie Bradley Jr., CF
Dustin Pedroia (knee) is out indefinitely, as he's still at least a few weeks away from extended Spring Training. The lineup nevertheless looks quite strong, particularly if you buy into a few bouncebacks and continued growth from Benintendi and Devers. And Martinez really ties it all together, giving them the middle-of-the-order presence that they desperately missed last season.
The Probable Rotation
Chris Sale, LHP
David Price, LHP
Rick Porcello, RHP
Hector Velazquez, RHP
Brian Johnson, LHP
Drew Pomeranz, Eduardo Rodriguez, and Steven Wright will all open the season on the disabled list, and Wright will serve a 15-game suspension for domestic violence once activated. That means that Velazquez – a 29-year-old rookie signed out of Mexico last year – and Johnson will be in the team's rotation for at least a couple of turns. Both were solid in limited duty for the Red Sox last year, but this is serious test of the team's depth early in the season. If the rotation is going to be a strength as many are predicting, these guys need to get healthy and stay healthy.
The Bullpen
Kimbrel is back as the team's closer, and I'm sure the Red Sox are looking forward to a full season's worth of Carson Smith. They acquired him from the Mariners in December of 2015 with the hopes of forming their own version of the super bullpen, but he has thrown just 9.1 IP around injuries since then. If Smith is healthy and pitches like he did in Seattle, this team will be in good shape in the late innings.
Ephemera
Alex Cora is just the eleventh Latin American manager in baseball history, and the second Puerto Rican to hold that position.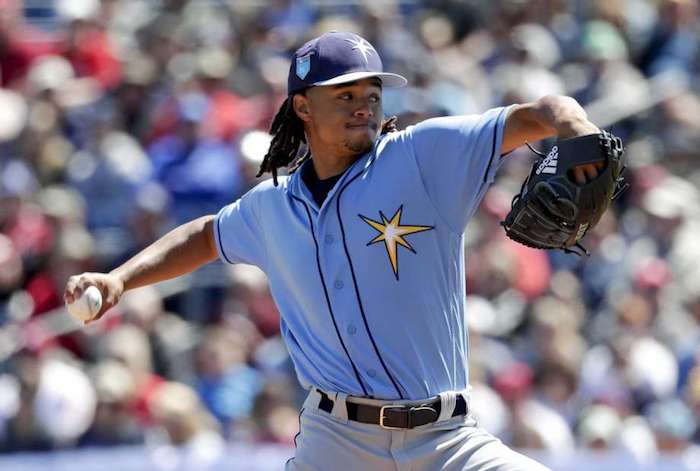 Tampa Bay Rays
2017 Record: 80-82
Notable Additions: Christian Arroyo, C.J. Cron, Carlos Gomez, Daniel Hudson, Denard Span
Notable Subtractions: Alex Cobb, Corey Dickerson, Lucas Duda, Evan Longoria, Logan Morrison, Jake Odorizzi, Steven Souza Jr.
Last year was quietly the fourth year in a row that the Rays finished below .500, and their reputation for being one of the smartest organizations in the game has faded into the background. They've made some puzzling moves in the last few years (no doubt with the financial bottom line in mind), and that was taken to something of an extreme this off-season, as people questioned their returns (or lack thereof) for Corey Dickerson, Jake Odorizzi, and Steven Souza Jr. And, while the Evan Longoria deal made some sense as he deals with his decline, this team is in search of a new face.
What Went Right Last Year?
Logan Morrison broke out in a big way, combining with Dickerson and Souza to give the Rays a potent heart of the order, Alex Cobb performed quite well in his first full season post-TJS, and Jake Faria and Blake Snell looked good in their first full big league seasons. And the Rays actually bought at the trade deadline, adding Lucas Duda and others in late-July.
Morrison, Dickerson, Souza, Cobb, and Duda are now playing for other teams.
What Went Wrong Last Year?
Kevin Kiermaier suffered a fractured hip and missed about forty-percent of the season, Chris Archer continued to be frustratingly average, Brad Miller regressed heavily, Matt Duffy missed the entire season, and Longoria had the worst offensive season of his career.
A Potential Lineup
Denard Span, DH
Matt Duffy, 3B
Kevin Kiermaier, CF
Carlos Gomez, RF
Brad Miller, 2B
Wilson Ramos, C
C.J. Cron, 1B
Adeiny Hechavarria, SS
Mallex Smith, LF
The first thought that pops into my head is that this is probably a damn good defense. Unfortunately, my intent here is to talk about the offense – and there doesn't appear to be much hitting to be had here. ZiPS only projects Miller (103) and Kiermaier (100) to finish with an average or better wRC+, and it's difficult to come up with a good argument against that. And their best offensive prospects, Jake Bauers (1B) and Willy Adames (SS) don't profile as middle-of-the-order types.
The Probable Rotation
Chris Archer, RHP
Blake Snell, LHP
Nate Eovaldi, RHP
Jake Faria, RHP
¯\_(?)_/¯
Injuries to top prospect Brent Honeywell and former top prospect Jose De Leon have forced the Rays to be creative with their pitching, which means they're going with a four-man rotation. The fifth slot will still exist, but it will be a bullpen game. That's how the playoffs shook out to some degree, so there's some precedent, but its viability in a full season remains to be seen – especially when one of the four starters is Eovaldi, whose last regular season start was August 10, 2016. Barring some miraculous success, prospect Anthony Banda will probably be up sooner rather than later to take that fifth spot.
The Bullpen
With the exception of the addition of Daniel Hudson, this group is the same as it was last year. Alex Colome will close, Sergio Romo will set-up, and they'll probably have a rotating cast of seventh, eight, and maybe even ninth relievers.
Ephemera
Jonny Venters had a 0.00 ERA in 7.0 IP this Spring before being sent down to the Rays minor league camp. Why is this interesting? Venters hasn't pitched in the majors since 2012, and has had, by his reckoning, three and a half Tommy John surgeries. It's a great story.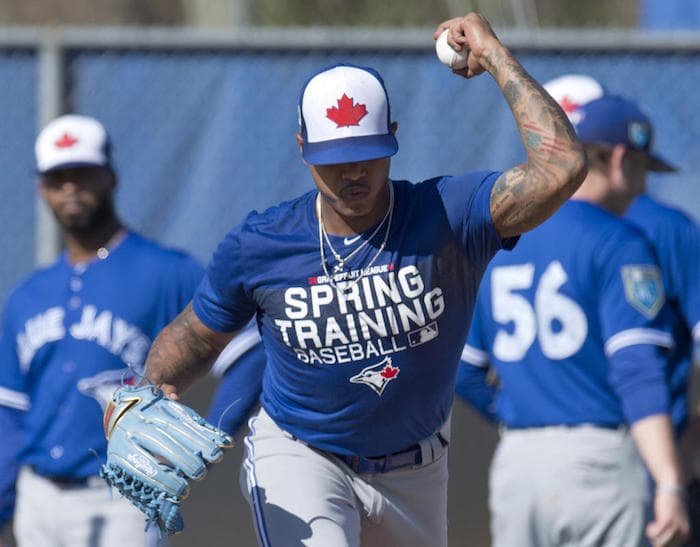 Toronto Blue Jays
2017 Record: 76-86
Notable Additions: Tyler Clippard, Aledmys Diaz, Jaime Garcia, Curtis Granderson, Randal Grichuk, Seung-Hwan Oh, Yangervis Solarte
Notable Subtractions: Darwin Barney, Jose Bautista, Dominic Leone, Miguel Montero
The Blue Jays followed-up back-to-back trips to the ALCS with their first losing season since 2013, in a year that was all but defined by regression and injuries. They've quietly completed a low-key reload this off-season, though, so they may be worth keeping an eye on.
What Went Right Last Year?
Justin Smoak broke out, Josh Donaldson continued to be a superstar, Marcus Stroman pitched like an ace, and Roberto Osuna secured his place among the brightest young relievers in the game.
What Went Wrong Last Year?
Where to begin? Jose Bautista had, by far, the worst season of his career, with -1.7 bWAR; Donaldson, J.A. Happ, Russell Martin, Steve Pearce, Aaron Sanchez, and Troy Tulowitzki all missed significant time with injuries; and Marco Estrada had a 4.98 ERA.
A Potential Lineup
Curtis Granderson, LF
Devon Travis, 2B
Josh Donaldson, 3B
Justin Smoak, 1B
Russell Martin, C
Kendrys Morales, DH
Randal Grichuk, RF
Kevin Pillar, CF
Aledmys Diaz, SS
Tulowitzki is out with bone spurs in his ankle, and his return is still up in the air. The Blue Jays have solid depth at short, though, with Diaz likely to start and Solarte on the bench in a pinch. With health and a bit of luck (mostly with Smoak), this can be a potent lineup from top to bottom.
The Probable Rotation
Marcus Stroman, RHP
J.A. Happ, LHP
Marco Estrada, RHP
Aaron Sanchez, RHP
Jaime Garcia, LHP
Stroman is dealing with a nagging injury, and won't be starting on Opening Day; he won't hit the DL, though, and is expected to start the fourth game of the season. The rotation looks strong on-paper, and an optimist could see a great deal of potential here. Sanchez was ace-like before blisters doomed him, Estrada was really good in 2015 and 2016, and Garcia is among the best fifth starters in the game. This could be a real strength for the Blue Jays.
The Bullpen
Osuna is a terrific closer, and there is a good amount of depth behind him, too. Seung-Hwan Oh was a smart addition, and low-risk moves for veterans John Axford and old friend Tyler Clippard could help out a bit more than we suspect. I don't know that the bullpen will be anything more than solid, but it doesn't profile as bad.
Ephemera
This is Donaldson's last year under contract, and he could be a difference maker in Toronto, or for some other team after the deadline if they're stumbling.