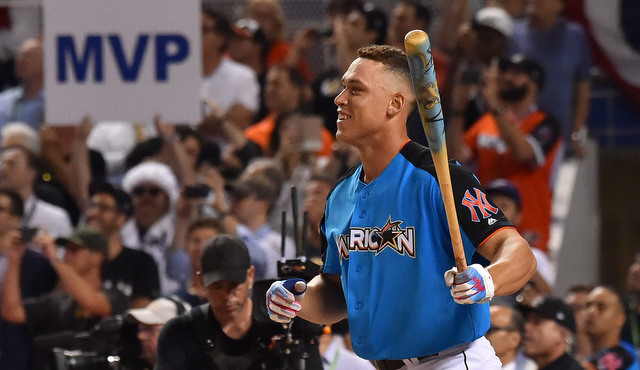 Welcome to the first day of the rest of the season. The All-Star break is over and we're officially into the dog days of summer. The Yankees begin a four-game set with the Red Sox in Fenway Park tonight. Best case scenario is they leave this series with a half-game lead in the AL East. Worst case scenario is they leave 7.5 games back. A few too many things have been playing out to the worst case scenario for my liking lately.
The Yankees return from the All-Star break with a 45-41 record and a healthy +98 run differential, though they're also 7-18 in their last 25 games, which is pretty darn awful. They haven't won a series or back-to-back games or more than a month now. Hopefully everyone got their heads clear during the break and the second half serves as a fresh start. The Yankees could really use one. Here is the Red Sox's lineup and here is the Yankees' lineup:
LF Brett Gardner
C Gary Sanchez
RF Aaron Judge
DH Matt Holliday
SS Didi Gregorius
1B Garrett Cooper
CF Jacoby Ellsbury
3B Chase Headley
2B Ronald Torreyes
LHP Jordan Montgomery
It is cloudy, cool, and humid in Boston this evening. There is rain in the forecast, though not until later tonight. It shouldn't be a problem unless the game goes to extra innings or something. Tonight's game will begin at 7:10pm ET and you can watch on YES locally and MLB Network nationally. Enjoy the game.
Injury Updates: In case you missed it earlier, Michael Pineda has a partially torn ulnar collateral ligament and Tommy John surgery has been recommended. He will get a second opinion first … Greg Bird (ankle) has been diagnosed with inflammation in his os trigonum, which is essentially an extra bone in his ankle. He received another cortisone shot, and if that doesn't work, he may need surgery. The surgery comes with a 6-8 week rehab timetable, meaning he could be back for September … Starlin Castro (hamstring) will play another minor league rehab game tonight, and could return as soon as tomorrow depending how he feels.
Roster Moves: Welcome back, Matt Holliday and Jordan Montgomery. Holliday (illness) was activated off the disabled list and Montgomery was called back up. He didn't even miss a start … Pineda was placed on the 10-day DL, allowing the Montgomery to return before his ten days in the minors were up … Rob Refsnyder was sent down to clear a roster spot for Holliday … welcome to the big leagues, Garrett Cooper. He's been added to the roster following yesterday's trade. He essentially takes Tyler Webb's 25-man and 40-man roster spots. This will be Cooper's MLB debut. Next time the Yankees need a 40-man spot, they'll slide Pineda to the 60-day DL.