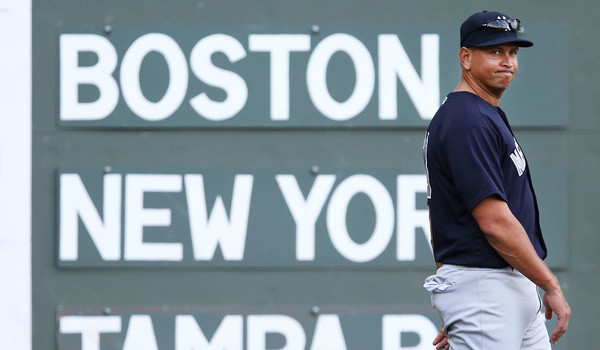 The Yankees have alternated wins and losses since the trade deadline, which means they're due for a win today. That's good, because these games are super important and the Yankees are still trying to win. Joe Girardi's not managing a retirement tour here. Here is the Red Sox's lineup and here is the Yankees' lineup:
LF Brett Gardner
CF Jacoby Ellsbury
3B Chase Headley
1B Mark Teixeira
2B Starlin Castro
SS Didi Gregorius
DH Gary Sanchez
C Austin Romine
RF Aaron Hicks
RHP Nathan Eovaldi
The weather in Boston isn't all that great today. It's been raining on and off and that's supposed to continue this evening. The heaviest stuff is supposed to come overnight. Tonight's game is scheduled to begin at 7:10pm ET. It'll be broadcast on YES locally and ESPN nationally. Enjoy.
Roster Move: Blake Parker, who was claimed off waivers yesterday, was added to the roster and Luis Severino was optioned to Triple-A to clear a roster spot, the Yankees announced. They'll need to come up with a starter for Sunday's game. (Chad Green lines up perfectly.) By my unofficial count, 13 days in the minors delays Severino's free agency one more year.
Injury Update: Conor Mullee underwent "ulnar nerve decompression surgery" on his right elbow yesterday, the Yankees announced. The team did not announce a timetable for his return, but at this point of the season, I'm guessing he's done for the year. That bites. At least Mullee gets MLB pay while on the DL after four elbow surgeries and more than five years in the minors.
Red Sox Rotation Update: Steven Wright is no longer starting tomorrow. He jammed something running the bases a few days ago. Lefty Eduardo Rodriguez still start in his place.