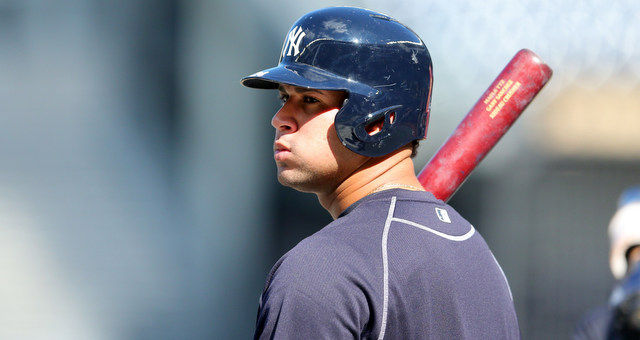 As expected, the Yankees called up top catching prospect Gary Sanchez today and he is in tonight's lineup (at DH) against southpaw Steven Matz. They've done this before, calling up Sanchez to spot start against a left-handed pitcher, but this time it seems he may be up for good. For starters, the Yankees gave him No. 24 this time, which looks like a "you'll be here a while" number. Sanchez wore 73 and 57 his last two times up.
Secondly, the Yankees have spent the last few days doing nothing but talking about prospects and incorporating them into the lineup in the second half. Sanchez is as ready as he's going get, and with Carlos Beltran gone and Alex Rodriguez glued to the bench, the DH spot is wide open. He just might be here for a while. Here is the Mets' lineup and here is the Yankees' lineup:
CF Jacoby Ellsbury
RF Rob Refsnyder
1B Mark Teixeira
3B Chase Headley
2B Starlin Castro
SS Didi Gregorius
C Austin Romine
DH Gary Sanchez
LF Aaron Hicks
RHP Chad Green
The weather in New York is pretty much perfect. Nice and sunny but on the cool side and a little breezy. There are worse days to spend at the ballpark. Tonight's game is scheduled to begin a little after 7pm ET. You can watch on YES and SNY locally, and ESPN nationally. Enjoy the game.
Roster Move: Ben Gamel was sent down to clear a spot on the roster for Sanchez, the Yankees announced. That's not surprising. Releasing A-Rod is a pipe dream at this point. Joe Girardi did say the team is likely to call up other young players before rosters expand in September, for what it's worth.
Injury Update: Conor Mullee (hand) is heading to see a doctor after feeling renewed symptoms during his latest minor league rehab game. He's on the DL with some sort of nerve issue that is making his fingers go numb.