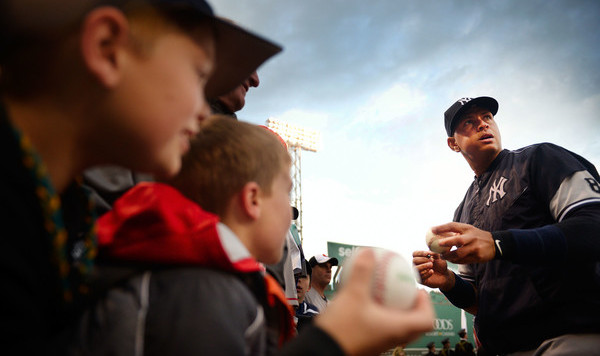 The Yankees and Red Sox continue their weekend series tonight at Fenway Park. Man, I hate Saturday night games. The game isn't even on FOX but I blame them anyway. Blah. Anywho, here are some links to help you pass the time until first pitch.
2016 All-Star Game voting underway
It's that time of the year again. Fan voting for the 2016 All-Star Game starters is underway and yes, it is ridiculously early. It is every year. Here's the ballot. You're allowed to vote up to 35 times per email address and the voting doesn't end until June 30th, so you've got plenty of time to vote for Chase Headley over and over again.
Teams game-planning for Ellsbury's catcher interferences
Already three times this season Jacoby Ellsbury has been awarded first base on a catcher's interference. That's unusual — there have been only three other catcher's interference calls in all of baseball this season — but not for Ellsbury. Since 2008, his first full season, his 17 catcher's interference calls are the most in baseball. No one else has more than 13.
Those 17 career catcher's interference calls are fourth most in history, behind Pete Rose (29), Dale Berra (18), and Julian Javier (18). Ellsbury has proven to be so proficient at getting catcher's interference calls that teams are now game-planning for it. From Jared Diamond:
It's happened enough that Ellsbury has earned a reputation around the league. Hector Ortiz, the catching instructor for the Texas Rangers, said he normally teaches his catchers to set up at an arm's length behind the batter. When the Yankees came to town this week, Ortiz took special care to warn his players about Ellsbury's strange talent, and to prepare for it.

"If you've got a guy that is consistently dropping the head of the bat that way, then we want to be an arm and a half," said Ortiz. "You talk about it, to get away. They move back and they stay away from that."
I don't think anyone is accusing Ellsbury of hitting the catcher's mitt on purpose. That's just his swing path and the way he lets the ball travel deep in the zone. Opponents are game-planning for it not only to keep Ellsbury off base, but also keep their catchers healthy. They don't want anyone to reach out too far and wind up with broken fingers. What a weird skill.
Three Yankees among top 20 DSL/VSL prospects
Earlier this month the great Ben Badler posted his annual look at the top 20 prospects from the Dominican and Venezuelan Summer Leagues last season. It's not a ranking, just an alphabetical list of 20 names. The Yankees have three of the top 20 thanks to the 2014-15 international spending spree. The article is behind the paywall, so I can't give away too much. Here are the nuts and bolts:
SS Diego Castillo: "Castillo was one of the most polished, fundamentally sound players in the 2014 signing class, with excellent instincts in all phases of the game."
OF Estevan Florial: "Florial has outstanding tools, with scouts hanging 70s on his speed and arm strength in center field. He has good bat speed and plus raw power, ranking second in the league in slugging."
3B Nelson Gomez: "Gomez (is) a physical righthanded hitter with huge raw power, though a lot of scouts were skeptical whether his swing-and-miss tendencies would allow his power to translate against live pitching."
Castillo, 18, hit .331/.373/.444 (130 wRC+) in 56 DSL games last year. He signed for $750,000 and is a personal favorite as a deep sleeper. I'm a sucker for guys who are polished and instinctual at such a young age. Castillo should come stateside later this summer and play with one of the rookie Gulf Coast League affiliates, so prepare to hear much more about him in the coming weeks and years.
MLBPA pushing for 7-day DL
According to Joel Sherman, the MLBPA plans to push for a 7-day DL as part of the next round of Collective Bargaining Agreement negotiations with MLB. Right now the league has 15-day and 60-day disabled lists, as well as a special 7-day DL for concussions only. That 7-day DL comes with all sorts of concussion protocol, including approval from MLB's medical director before the player can be activated.
Sherman says the union has pushed for a 7-day DL in the past, though it never received approval from the owners. Apparently there's concern teams would manipulate the system, perhaps by putting a starting pitcher on the 7-day DL to gain an extra roster spot when he isn't scheduled to pitch for a few days. I could totally see the Yankees doing something like that with a sixth starter, couldn't you?
There is a 7-day DL in the minors, and once upon a time MLB had 10-day and 21-day disabled lists. There's nothing special about 15 days. It's just a round number. I'm in favor of a shorter DL to give teams some more flexibility — the Yankees played with a 23-man roster for a few days this week because Alex Rodriguez and Aaron Hicks were banged up — though I understand there are some things to work out. It's not quite as simple as it seems.