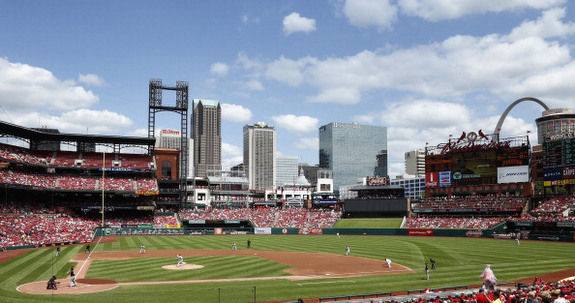 After a one series reprieve, the Yankees are right back in an NL park for another interleague series. Thankfully this is their final visit to the so-called Senior Circuit this year, at least until the World Series, of course. The Yankees are visiting the new Busch Stadium for the first time this week for three games against the defending NL champion Cardinals. It is their first trip to St. Louis in general since 2005.
What Have They Done Lately?
The Cards are coming off two straight wins over the Reds and they've won nine of their last eleven games overall. They were scuffling a bit earlier in the season, but they've definitely turned it around of late. St. Louis is 28-22 with a +24 run differential overall, which is the second best record in the NL Central and fourth best record in the NL overall.
Offense
At 3.84 runs per game with a team 96 wRC+, the Cardinals are a bit below average offensively. Unsurprisingly, their historic success with runners in scoring position last year (.330/.402/.463 (!!!)) has not carried over to this year (.242/.324/.334). That's just not something a team will do year after year. OF Peter Bourjos (87 wRC+) has been sidelined by a stomach bug the last few days, but otherwise the Cardinals are perfectly healthy on the position player side.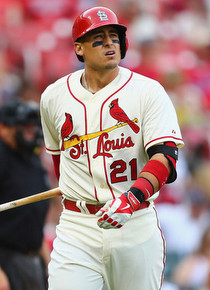 Manager Mike Matheny's lineup is anchored by C Yadier Molina (133 wRC+), who also happens to be the best defensive catcher in all the land. Life will not be easy for the Jacoby Ellsbury and Brett Gardner led running game this week. SS Jhonny Peralta (123 wRC+) and 1B Matt Adams (124 wRC+) are having very strong years while 3B Matt Carpenter (110 wRC+) and OF Matt Holliday (111 wRC+) have been good but not great. Certainly not as good as they were last season. OF Jon Jay (101 wRC+) has been solid.
The lack of production from RF Allen Craig (89 wRC+) has really hurt the Cardinals these first few weeks. He was expected to be one of their top middle of the order guys. 2B Kolten Wong (83 wRC+) and 2B Mark Ellis (32 wRC+) have more or less shared time at second, though Wong is getting more of the at-bats of late. OF Shane Robinson (24 wRC+), IF Daniel Descalso (10 wRC+), and C Tony Cruz (115 wRC+) round out the bench, which is surprisingly weak for an NL team. It was especially noticeable in the World Series last fall.
Pitching Matchups (Pitcher GIFs is still down for whatever reason)
Monday: RHP Chase Whitley (No vs. STL) vs. RHP Michael Wacha (vs. NYY)
Wacha, 22, shot from college to (near) the front of the Cardinals rotation in less than two full years, which is damn impressive. He has a 2.54 ERA (2.77 FIP) in ten starts and 60.1 innings this season thanks to excellent strikeout (9.58 K/9 and 26.4 K%), walk (2.54 BB/9 and 6.8 BB%), and homer (0.60 HR/9 and 7.5% HR/FB) rates. His ground ball rate (43.0%) isn't great and he has a tiny platoon split. Wacha's performance this year is almost exactly the same as last year, and it's kinda freaky. After relying on his low-to-mid-90s four-seamer and knockout mid-to-high-80s changeup almost exclusively last season, Wacha is using his upper-80s cutter and mid-70s curveball much more often this year. It's very hard to believe he won't turn 23 until later this summer.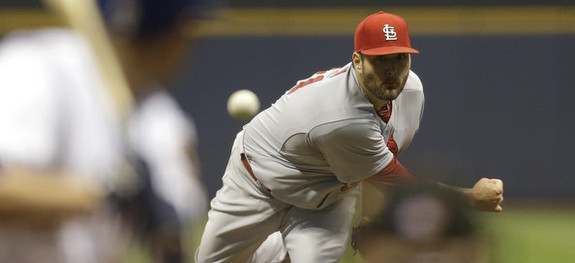 Tuesday: RHP David Phelps (vs. STL) vs. RHP Lance Lynn (vs. NYY)
At 27 years and 14 days, Lynn will be the oldest starting pitcher the Yankees see in this series by more than three full years. He comes into the series with a 3.60 ERA (3.10 FIP) in ten starts and 60 innings, and his peripherals — 8.85 K/9 (22.6 K%), 3.00 BB/9 (7.7 BB%), 0.60 HR/9 (7.0% HR/FB), and 44.5% grounders — are career bests as a starter across the board. Lefties (.348 wOBA) are hitting him much harder than righties (.273 wOBA). Lynn is something of a 4.5-pitch pitcher. He uses his low-90s two and four-seam fastballs to set up his mid-80s slider and upper-70s curveball, plus he'll also throw a handful of mid-80s changeups per start. For whatever reason, Lynn has really scaled back his changeup usage the last two seasons. He'll look like a legitimate ace on his best days.
Also, I'd be remiss if I didn't point out this will be a homecoming for Phelps, who was born and raised in the St. Louis suburbs. He told George King he was a die-hard Cardinals fan growing up. I'm sure he's excited for this game.
Wednesday: RHP Hiroki Kuroda (vs. STL) vs. RHP Shelby Miller (vs. NYY)
The Cardinals reportedly shopped the 23-year-old Miller heavily over the winter, which made me think his arm was about to explode. Especially after they avoided using him in the postseason (faced only four batters despite being on the roster all three rounds). You don't try to trade former first round pick after he pitched to a 3.06 ERA (3.67 FIP) as a rookie. Sure enough, Miller has taken a big step back this year, though you wouldn't know it by looking at his 3.18 ERA. His strikeout rate (7.15 K/9 and 18.7 K%) has dropped quite a bit, his walk rate (4.76 BB/9 and 7.5 BB%) has nearly doubled, and he's been far more homer prone (1.43 HR/9 and 15.0% HR/FB) despite a relatively static ground ball rate (41.8%). Lefties (.381 wOBA) have pounded him as well (.310 wOBA for righties). His 5.22 FIP is no accident. Miller sits in the low-to-mid-90s with his fastball and will mix in the occasional upper-80s cutter. A sharp upper-70s curveball is his top secondary pitch, though he also has a mid-80s changeup. Based on how he's pitching this year compared to last year, I have to think something is very wrong with Miller. Either he's hurt or his mechanics are a total mess. He went from budding ace to replacement level in an offseason.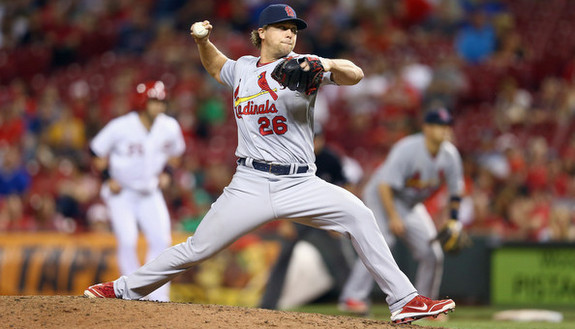 Bullpen Status
The Cardinals recently welcomed RHP Jason Motte (8.19 FIP in limited time) back from Tommy John surgery, which sidelined him all of last year. He is currently being eased back into things while RHP Trevor Rosenthal (2.96 FIP) continues to handle closing duties. He's had some walk (13.3 BB%) problems this year. RHP Carlos Martinez (3.88) handles setup work.
LHP Kevin Siegrist just landed on the disabled list with a forearm problem, leaving former Yankee LHP Randy Choate (2.90 FIP) as Matheny's top southpaw. RHP Seth Maness (3.70 FIP), RHP Pat Neshek (1.99 FIP), and LHP Sam Freeman (2.05 FIP in one whole inning) fill out the rest of the bullpen. The Cardinals don't really have a true long man, though I'm not sure that's a flaw. It's just different. Only Choate and Neshek pitched last night, and they threw a combined 17 pitches. Their 'pen is fresh.
Our Bullpen Workload page has everything you need to know about the Yankees' bullpen heading into the series. For the latest and greatest on the Cardinals, check out Viva El Birdos.