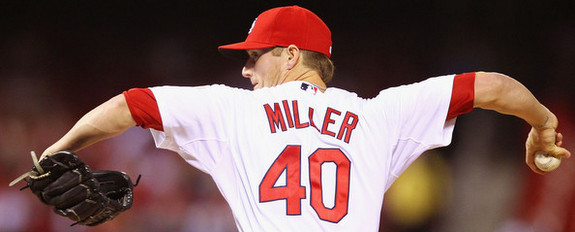 Travis asks: If the Cardinals were to attempt a trade for Robinson Cano, taking into account he is a one-year rental, what would the Yankees get? Trevor Rosenthal, Jon Jay, and Lance Lynn?
Cano's future with the Yankees has been a pretty hot topic in recent weeks given his impending free agency and the team's intent to get under the $189M luxury tax threshold by 2014. I fully expect them to re-sign him to a long-term contract, but let's entertain the idea of trading him this winter just for fun. Remember, thanks to the new Collective Bargaining Agreement, Robbie would have to be traded in the offseason for his new team to be eligible for draft pick compensation next winter. That's a pretty big deal.
Anyway, the Cardinals looked into acquiring Cano prior to the 2009 season but backed away when the Yankees asked for Adam Wainwright. Their middle infield is a disaster right now and top second base prospect Kolten Wong is at least half-a-season away, if not a full season. Adding a big left-handed bat to switch-hitter Carlos Beltran and righties Matt Holliday, Yadier Molina, Allen Craig, and David Freese would really balance their middle of the lineup and make the NL's best offense even better.
The Cardinals have a loaded farm system that includes arguably the best hitter in the minor leagues in Oscar Taveras. The left-handed hitting outfielder mashed in Double-A this year (.321/.380/.572, 159 wRC+ as a 20-year-old) and will be ranked among the top five prospects in baseball after the season. They also have a ton of pitching in Rosenthal, Lynn, Joe Kelly, Carlos Martinez, Tyrell Jenkins, and Shelby Miller. Martinez and Jenkins are a few years out while the other guys all pitched in the bigs in 2012. Obviously the Rays deserve a lot of credit, but I think the Cardinals are the best player development organization in baseball.
The Adrian Gonzalez trade (Padres to Red Sox, not Red Sox to Dodgers) is a pretty great trade comparison since it also featured one year of a superstar player. It netted the San Diego two of Baseball America's top 100 prospects in Casey Kelly (#31) and Anthony Rizzo (#75) in addition to the previous year's first rounder in Reymond Fuentes. Taveras is better than any of those guys and that's obviously who the Yankees should ask for first. I think 27-year-old rookie and left-handed hitting utility man Matt Carpenter (125 wRC+ in 340 PA while playing first, second, third, left, and right this year) would be a great target as the third piece in a package.
The Yankees should start talks by asking for Taveras or Craig (who could play right, backup first, fake third if needed), Miller or Lynn or Rosenthal, plus Carpenter to round out the three-player package. St. Louis would say no and you negotiate down a bit from there, though I suppose the Bombers could add a player/prospect(s) to sweeten the pot on their end. Cano would have to net you a third high-end piece in addition to one of those arms and Carpenter though, he is the best second baseman in baseball with a below-market salary for 2013. I don't think the Yankees will find a better trade partner for Cano than the Cardinals given their middle infield needs and prospect depth, but moving him would put a big dent in their attempt to contend in 2013.